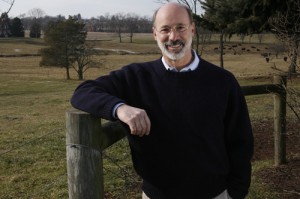 The Democratic Party is currently split between the old guard and the Wolf team and people are beginning to pick sides.
According to a Democratic insider, two high-level Pennsylvania Democratic Party employees are leaving to join the Wolf campaign.
Beth Melena, the Press Secretary and Digital Director of the Party, has jumped to Wolf's press office. Meanwhile Marc Eisenstein, the party's Communications Director and veteran of Bob Casey's successful 2006 and 2012 campaigns, will be Wolf's new research director.
This exodus marks a significant shift from the party establishment to Wolf's campaign. Burn's communications and research team were seen one of his strengths and now they have left to join his rival.
Tom Wolf shocked the PA political world yesterday when he announced he was creating his own PAC that would essentially act as a way to circumvent the state Democratic party.
The move came after Wolf's choice for Dem Party Chair (and head of his new PAC, The Campaign For a Fresh Start) Katie McGinty met resistance from currently party chairman Jim Burn. Traditionally, gubernatorial nominees have gotten the opportunity to chose their own chair but Burn refused to step aside.
Since yesterday many Democrats have noted that Burn's victory will actually harm his career as he caused a public relations mess and no one will want to deal with him anymore. These latest moves could be early indications that Burn may have won the battle but lost the war.