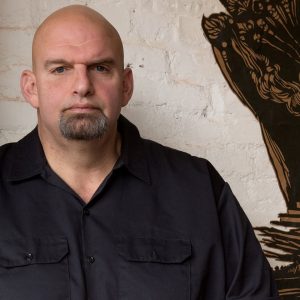 Governor Tom Wolf has a new running mate.
Braddock Mayor John Fetterman built a national and statewide following as an advocate for the rust belt and a 2016 U.S. Senate candidate. He was endorsed in the race by Senator Bernie Sanders and ran as a strong progressive.  
But on Tuesday night, the most important word on the ballot was "Allegheny". Fetterman was the only candidate in the five person LG primary not from the Philadelphia media market. He ran up his margins across the state and stayed competitive in the southeast.
Incumbent Mike Stack, already beset by ethics questions, faced a challenge from Deputy Philadelphia Mayor Nina Ahmad; Chester County Commissioner Kathy Cozzone; and Ray Sosa, an attorney from Montgomery County. With 85% of precincts in, he was in fourth place behind Ahmad and Cozzone, respectively.
He and Wolf will face State Sen. Scott Wagner and Berks County businessman Jeff Bartos in the fall.