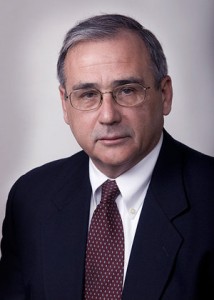 Philadelphia Judge Joe Waters looks likely to toss his hat in the ring for the open Superior Court seat in 2013.
That's according to a Democratic operative with direct knowledge of Waters' decision process.
Waters, 59, serves on Philadelphia Municipal Court and is a former police captain and retired Marine.
His name pops up just as the state's top politicos head to New York City for Pa. Society.
On the Republican side, attorney and party stalwart Vic Stabile is the early favorite for the GOP state committee endorsement. He ran in 2011 but lost to David Wecht.
Sitting Superior Court Judge John Musmanno turned 70 in March and is constitutionally ineligible to run for retention.
The Superior Court doesn't rule on the constitutionality of law like the Pa. Supreme Court does. Rather, judges hear appeals from Courts of Common Pleas.
Pennsylvania's biennial judicial races tend to be low attention but high intrigue affairs, with much of the action happening at party state committee meetings.