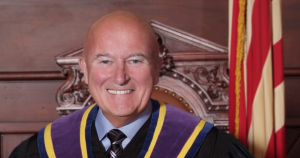 The ongoing saga over inappropriate emails has now reached the highest court in the commonwealth.
Steve Esack of Morning Call identified PA Supreme Court Associate Justice Seamus McCaffery as the recipient or sender of 54 pornographic emails received and forwarded throughout 2008 and 2009.
The emails have between 20 and 54 forwarded recipients from the justice's personal email account. The long email chain contained not only videos and images of sexual acts, but also sexually explicit jokes.
Several of the recipients still work in the attorney general's office, or other forms of state and local government. However, further names are being protected for liability reasons.
McCaffery briskly asked a Morning Call reporter to leave his property late on Wednesday night after stating "Not only do I not have any comment, since when does the news media pry into personal emails."
Attorney General Kathleen Kane declared she'd only be releasing the names and email chains of eight former public employees snared in the scandal. Her spokeswoman Renee Martin cited an ongoing grand jury probe as the reason she couldn't share further information.
Martin further stated that it is not illegal for adults to send or recieve porngraphy depicting adults.
Just last week, PA Supreme Court Chief Justice Ron Castille,  warned that any judge connected to this scandal will have to "pay the piper." The two men are known to have a contentious relationship.