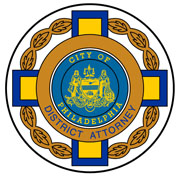 First quarter finance reports have been filed for the Philadelphia District Attorney's office, and Michael Untermeyer filed with the most cash on hand (COH) with Joe Khan in a close second.  
Untermeyer filed with $455,766 COH, Khan filed with $442,635.  Rich Negrin came in third with $189,121 COH.  According to Newsworks, Teresa Carr Deni was next with $154,861 COH (Deni's finance reports were not filed on time with the city).  Lawrence Krasner filed with $127,592, Jack O'Neil filed $11,243, and Tariq El-Shabazz was in last place among Democrats with $10,425 COH.  
Untermeyer and Khan both led the pack in fundraising as well, bringing in $713,835 and $506,657 respectively.  Both candidates loaned money to their campaigns during the first quarter of the year though.  Untermeyer loaned $250,000 to his campaign to start the year.  Khan loaned $54,000 to his campaign.  No other Democrat loaned money to their campaigns.  
The campaigns will all be pushing to raise money for their election day operations, mainly ensuring poll workers and the support of ward leaders throughout the city.  
The Republican primary is not contested, with Beth Grossman running as the only candidate.  She filed with $4,818.35 COH.