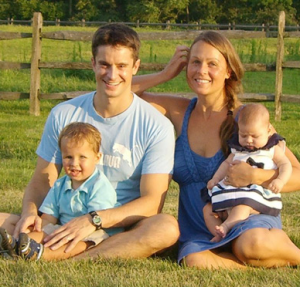 Sound familiar? A young Iraq war veteran announced Thursday that he will challenge Rep. Mike Fitzpatrick (R-Bucks).
But it isn't Patrick Murphy, the Democrat who held the seat from 2007 to 2011 when he defeated, then lost to, Fitzpatrick.
It's Kevin Strouse, a former U.S. Army Ranger.
"I've dedicated my life to public service and solving tough challenges and I know Washington can do better at strengthening the middle-class, protecting our national security and creating good paying jobs," Strouse said in a press release. "The families of the 8th District need leaders who have proven they will work for common-sense solutions, not the broken politics of Washington."
According to his campaign bio, he was in basic training on Sept. 11, 2001 and soon after deployed to Afghanistan. In Iraq, he was part of the mission to rescue Army Private Jessica Lynch helping clear the streets and completing a successful rescue. He served three tours of duty.
He spent the next six years with the CIA's counterterrorism center.
Strouse, 33, his wife and their two children recently moved to Bensalem. He grew up in Delaware County. He gave a long interview, including the video below, to the Bucks County Intelligencer.
Fitzpatrick is Democrats' top target in Pa. this cycle, as he was in 2012. He cruised to re-election by 13 points over attorney Kathy Boockvar.
A few other names have been floated as possible contenders for the seat, including County Commissioner Diane Marseglia, State Rep. Steve Santarsiero, and Doylestown Borough Council President Det Ansinn. Not to mention Murphy himself.
But DC Democrats might have a hard time recruiting a more seasoned candidate into the race; Fitzpatrick term-limited himself and the seat will be open in 2016.
Here is the video: