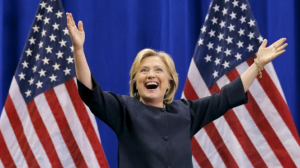 Hillary Clinton has a 81.6% chance of winning Pennsylvania and its twenty electoral votes on November 8th.
That's the conclusion of Nate Silver and the other political forecasters at FiveThirtyEight.
GOP Presidential nominee Donald Trump has just a 18.1% shot at victory. The difference between the two is Libertarian Party nominee Gary Johnson, who's odds they put at 0.3%.
When it actually comes to share of the vote, though, they project Clinton at 47.7%. Trump comes in at 40.1% while Johnson receives 11%.
Those numbers concern FiveThirtyEight's polls-only model. Their polls-plus forecast, which includes economic and historical data, shows a slightly improved picture for Trump.
Still, though, Clinton's chances at victory stand at 76.2%. Trump's odds rise to 23.7% and Johnson's fall to less than 0.1%.
This model gives Clinton and Trump 48.0% and 43.1% of the vote respectively. Johnson's share would plummet to 7.7%.
If the election were held today, Clinton would have an 85.9% chance of victory as opposed to Trump's 13.9% and Johnson's 0.2%. They project Hillary getting 40.0% of the vote, Donald receiving 39.3% and Johnson snagging 13.5%.
These projections do not include the latest survey released by Ballotpedia today that showed Clinton with a 49% to 35% lead.
You can see FiveThirtyEight's national forecast and read Nate Silver's explanation of how they came to it by clicking the links. It would also be worth checking out the forecast's methodology.