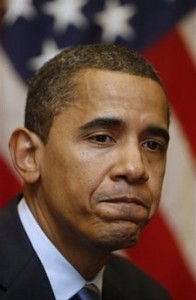 Franklin and Marshall's Center for Politics and Public Affairs found that 34% of Pennsylvania's registered voters currently approve of Barack Obama's job as President.
56% of Democrats approve, as do 25% of Independents. Registered voters aged 18-35 were most likely to approve, as 37% of them respondent that the President was fulfilling his duties in an "excellent" or "good" manner.
Philadelphia is the only region in which a resounding majority – 71% – of poll respondents approved of the President's job. In the Northeast, Allegheny, Southwest, Northwest, Central, and Southeast regions, fewer than 40% approved of the President's execution of his office.
Presidential approval ratings are typically bad after nearly 70 months in office, and Obama's rating is similar to George W. Bush's 33% job approval rating during his 6th year.
Obama's lowest job approval rating was 30% in January 2014.
F&M's results for Pennsylvanian voters were slightly lower than the 40% approval found nationally by the most recent Quinnipiac Poll.
Franklin and Marshall's College Poll is the oldest poll exclusively direct and produced in-state. It surveyed a sample of 502 registered Pennsylvanian voters with a sampling error of +/- 4.4 percentage points.