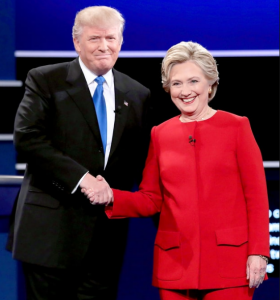 Hillary Clinton is ahead by double digits with a week to go.
That's according to the latest Franklin & Marshall poll, which has Clinton leading Trump 49% to 38%. Libertarian Party nominee Gary Johnson and Green Party nominee Jill Stein received 4% and 3% respectively.
Last month, Clinton's lead was nine points.
Favorables
Clinton recorded a 46% favorability rating (27% strongly, 19% somewhat) against a 52% unfavorability rating 52% (44% strongly, 8% somewhat).
Meanwhile, Trump got a 35% favorability score (23% strongly, 12% somewhat) while 62% view him unfavorably (56% strongly, 6% somewhat).
Demographics
The Democratic nominee is ahead among the following groups: liberals (90/6), Democrats (81/11), Philadelphia residents (72/17), Allegheny residents (68/18), those with a college degree (64/24), Southeast residents (64/28), those that don't own a gun (61/24), those who aren't born again Christian or Fundamentalist (61/27), nonwhites (60/21), religiously unaffiliated (59/27), those making over $75,000 a year (59/34), not currently married (57/30), moderates (56/25), single never married (54/28), under 35 years old (54/30), part-time employees (53/31), females (53/34), Catholics (53/37), those making under $35,000 a year (50/36), whites (49/39), full-time employees (49/39), over 55 years old (49/41), retirees (48/41), 35 to 54 years old (47/39), married (46/43), males (45/43) and independents (38/34).

The Republican nominee is ahead among the following groups: conservatives (81/6), Republicans (74/12), born again Christian or Fundamentalist (69/19), gun owners (61/31), Southwest residents (60/32), those with some college (51/35), high school graduate or less (50/37), Central residents (49/33), Protestants (48/37), Northwest residents (47/39), those making between $35,000 and $75,000 a year (44/40) and Northeast residents (44/42).
Perceptions

Franklin and Marshall also asked respondents a number of questions concerning the candidates' personal attributes.

Clinton won on all nine questions: has the experience to be President (61/17), is most prepared to handle foreign policy issues (59/24), beliefs are closest to how you feel about value issues (49/31), has the character and good judgment needed to be President (48/25) and best understands the concerns of ordinary Americans (45/33), will best protect the United States against terrorism (47/39), is most prepared to fix our economic problems (43/38), will change government policies in a way that makes your life better (37/36) and is the most honest and trustworthy (34/31).
Conclusion
A week from Election Day, Hillary Clinton maintains a healthy lead over her opponent. It is worth noting, however, that most of the interviews for this survey occurred before Jim Comey's letter to Congress. It's unclear how, or if, that would change the results.
This poll was conducted by the Center for Opinion Research at Franklin & Marshall College on behalf of the Center for Politics and Public Affairs. They surveyed 652 likely voters from October 26th to October 30th. The margin of error is +/- 5.1%.