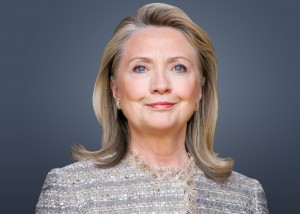 Pennsylvanians approve of Hillary Clinton more than any other national or statewide Democratic politician polled by Franklin and Marshall; 80% of survey respondents said that they had at least a somewhat favorable opinion of the former First Lady and Secretary of State.
53% of registered Democrats said they have a strongly favorable view of Clinton, 27% had a somewhat favorable opinion of her. 18% have an unfavorable view, 9% are undecided and 2% don't know.
This favorability rating only looks more impressive when compared to other national figures. Just 47% of registered Democrats have a strongly favorable view of President Barack Obama and 27% have a somewhat favorable view.
In what could be a preview a 2016 Democratic primary for governor, F&M also asked about perceptions of Vice President Joe Biden. 31% of respondents said they had a strongly favorable view and 34% said they had a somewhat favorable view, putting his overall favorability at 65%, which is impressive, but pales in comparison to Clinton's 80%.
On ABC's "The View" Biden said his decision on whether to seek the presidency in 2016 will not hinge on whether Clinton enters the race. We shall see.
Franklin and Marshall surveyed 548 registered Democrats from Feb. 18 to 23. The margin of error is plus or minus 4.2%.