By Danielle Ardner, Contributing Writer
Franklin and Marshall College's Center for Opinion Research released a poll this morning showing President Obama's overall job performance ratings up slightly. They jumped three points compared to F&M's October poll, from 37 percent positive to 40 percent.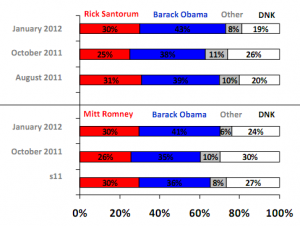 In the current economic downturn, Obama's handling of the economy was questioned. F&M's poll conveyed that only 29 percent  of Pennsylvania voters believe Obama is doing a sufficient job.
Is a change needed? 49 percent of respondents say yes. On the contrary though, 44 percent  still support Obama, believing he deserves to be re-elected.
Obama is ahead of the game when it comes to the Republicans, who are viewed more negatively than positively in Pa. Mitt Romney and Rick Santorum trail Obama by more than 10 points, gaining a 2-point bump from the F&M's previous poll in October. He leads Romney by 11, Santorum by 13. The poll did not test Newt Gingrich. Poll respondents deem Obama more personally appealing than the GOPers. F&M notes this pattern is the same for those who claim to be Independent voters.
That said, the fact that so many people are undecided (24 percent with Romney, and 19 percent with Santorum) could cut both ways – and might favors the GOP challenger.
As far as the state is concerned, F&M found that 47 percent of Pennsylvanians think the state was headed in wrong direction, and noted that this number has remained stable throughout the past two years.
F&M's poll was conducted from January 17 through January 22, 2012, under the observation of Director Dr. G. Terry Modonna, Head Methodologist Berwood Yost, and Senior Project Manager Angela Knittle.
The poll respondents represented 614 Pennsylvania registered voters; 314 Dems, 227 Republicans, 73 Independents. The voter information was obtained from Voter Contact Services. F&M's survey results were weighted by age, gender, and political party affliliation, using an iterative weighting algorithm as reported by the PA Department of State.  The sample error was +/-4.0 percent.