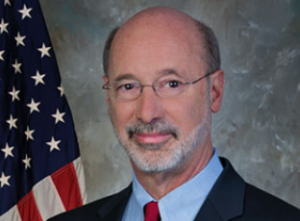 The tide has changed for Gov. Tom Wolf, as PA voters are now holding state legislators responsible for the late budget.
54% point the finger at the state legislature, while only 29% blame the first-year Governor, according to a new Franklin & Marshall poll. One week after vetoing a GOP-constructed budget, 66% of respondents blamed Wolf for the budget lapse, a PoliticsPA reader poll found.
72% of Democrats blame the GOP-controlled legislature, while only 48% of Independents and 32% of Republicans agree.
The Governor and legislature are both trusted equally to make final decisions on the budget – 44% each – according to the F&M poll.
Voters reached a bipartisan agreement of their own in the poll – 66% believe lawmakers shouldn't be paid during negotiations on a late budget.
Wolf's Job Performance
The Governor now enjoys a 43-26% favorability rating, while 61% of Democrats believe he is doing an excellent or good job in office. However, only 16% of GOP voters agree.
His 39% overall approval rating is the same number he received in June before the budget stalemate started.
At this point in his tenure, his ratings are higher than Gov. Corbett but lower than former Govs. Tom Ridge and Ed Rendell.
Wolf picked up his strongest support from the eastern part of the state, with 58% of Philly voters appreciating his gubernatorial work. The majority of central, southwest, northwest and Allegheny-region voters believe he is doing a fair or poor job, according to the poll.
The majority of people in all income levels felt Wolf has only done fairly or poorly in his first eight months on the job. White men aged 35-54 are particularly unenthused by Wolf, the poll shows.
This Franklin & Marshall Poll surveyed 605 registered Pennsylvania voters and was conducted from August 17th to August 24th. The margin of error is +/- 3.9%.