F&M Poll: President Obama's Approval Rating Stands at 32%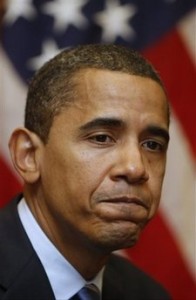 The latest Franklin & Marshall poll shows some pretty grim numbers for President Obama.
His approval rating stands at just 32%. Only 8% feel he is doing an "excellent" job and just 24% believe the President is doing a "good" job.
Meanwhile, 41% responded that the President is doing a "poor" good and 27% said he is doing only a "fair" job.
Among the groups that give the President a 50% or higher approval rating are: Extremely Liberal (71%), Nonwhites (63%), Slightly Liberal (56%) and Philadelphia residents (51%).
The silver lining for the President is that at least this survey is a few points better than last month's.
The President as Surrogate
Given President Obama's numbers, though, it's worth asking why Tom Wolf would want the President to campaign for him.
A recent guest piece by Dr. Eric Ostermeier explored how most Presidents tend to be a drag on gubernatorial nominees from their party during their tenures.
The answer could be turnout.
President Obama will be visiting Temple University with Wolf on Sunday. The President's approval among those under 35 years old in the F&M poll was 49%. This suggests that his numbers among college students are probably above water. Also, Temple University is in the heart of Philadelphia.
Therefore, this appearance appears to be an effort by the Wolf campaign to get young non-white voters in the city to turn out. These groups generally don't go to the polls in midterms elections but they may cast ballots this year if President Obama can attract their attention.
As a result, the support of the President could be beneficial to Wolf after all.