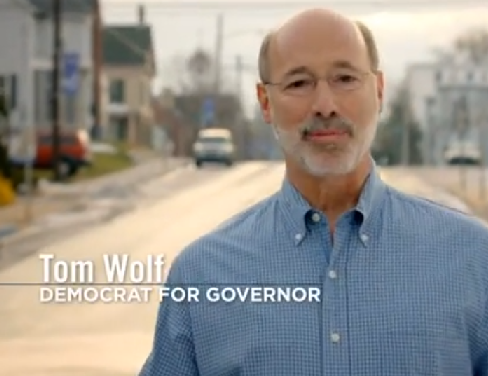 Tom Wolf reaffirmed his lead in the latest Franklin & Marshall poll in the Democratic primary for governor, taking 33% – 26 points more than his closest opponent.
Rep. Allyson Schwartz earned 7%, State Treasurer Rob McCord took 6% and former DEP Secretary Katie McGinty won 4%.
These numbers reflect the opinions of registered voters, but the lead becomes even more substantial for Wolf among 'Super Voters.' Wolf takes 38% among this crowd, McCord takes 9%, Schwartz has 6% and McGinty takes 2%. Super Voters are the most likely to vote in the Democratic primary, but 40% of the group are still undecided.
Wolf's lead is consistent across demographic crosstabs including education, ideology, gender and age.
The registered voter numbers from the March poll shows a 3 point drop for Wolf and a 2 point drop for Schwartz since the February poll from Franklin & Marshall; but a 3 point gains for McCord and McGinty,. At that point just under three months away from the election, 48% of voters surveyed said they were still undecided about their pick in the Democratic primary.
In the latest poll, 46% of registered voters remain undecided.
Like in February, F&M examined the ubiquity of campaign ads. In February, 65% of registered Democrats had seen a television commercial for governor, and almost all (88%) of these respondents had seen a Wolf advertisement.
By the end of March, 71% of registered Democrats had seen at least one campaign advertisement on television; 85% of those had seen a Wolf ad, 42% had seen a McCord ad, and 39% reported seeing a McGinty ad. Schwartz has yet to begin a media buy.
The poll also looked at the favorability of each of the candidates; like in every other aspect of the poll, Wolf stood out above the rest with a 44% approval score, compared to 3% unfavorable, 11% undecided and 41% who don't know.
Schwartz, again, comes in second with 25% favorable, 6% unfavorable, 10% undecided and 60% who don't know.
McCord is next; 16% favorable, 2% unfavorable, 11% undecided and 71% who don't know.
Then McGinty with 14% favorable, 3% unfavorable and 83% who don't know.
This survey reflects interviews with 524 Pennsylvania registered Democratic voters conducted by the Center for Opinion Research at Franklin & Marshall College from March 25-31, 2014 (sample error of +/- 4.3 percentage points).
The Franklin & Marshall College Poll is produced in conjunction with the Philadelphia Daily News, WGAL-TV (South Central PA), Pittsburgh Tribune Review, WTAE-TV (Pittsburgh), WPVI-TV6/ABC (Philadelphia), Times-Shamrock Newspapers, Harrisburg Patriot-News, and Lancaster Newspapers.