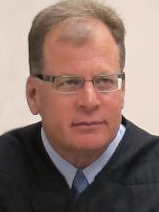 The FOP has made their choice for the PA Superior Court.
Today the Fraternal Order of Police announced they are endorsing GOP nominee Emil Giordano.
"It is an incredible honor to have the endorsement of the Fraternal Order of Police Pennsylvania State Lodge, an organization I respect tremendously," said Judge Giordano. "As a Judge, former prosecutor and public defender, I have a unique perspective on the difficult job our police officers have as they lay their lives on the line everyday to protect our communities."
"With the support and help of the Fraternal Order of Police and many other organizations who are supporting my campaign, I am confident that we will be successful and Pennsylvania will have a new Superior Court Judge who is experienced, fair and tough on crime," Giordano concluded.
Judge Emil Giordano currently sits on the Northampton County Court of Common Pleas, where he has served since 2003.