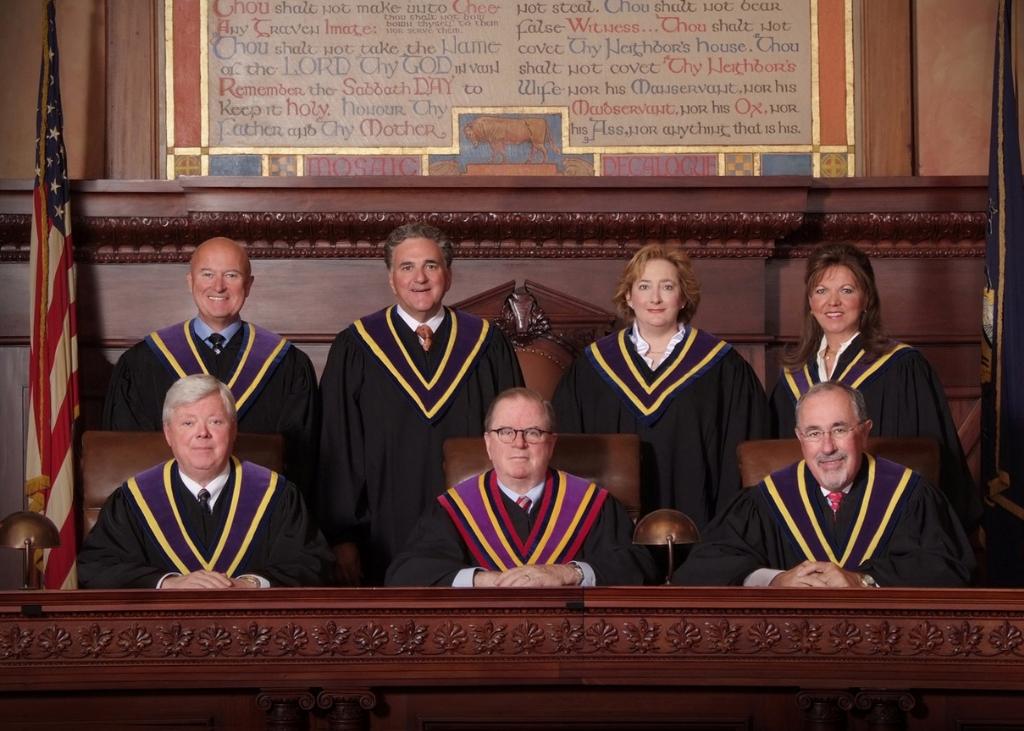 Citing the case of Joan Orie Melvin, a bipartisan group of four former Governors say Pennsylvania should change the way statewide judges are selected. They want to do away with elections and transition to a system of appointments.
Presently they argue, judicial hopefuls must raise money and compete in a partisan contest. That, they say, threatens their impartiality.
They want to create a system wherein a panel recommends qualified jurists, one of whom would be selected by the sitting Governor. That person would require a confirmation vote from the state Senate.
"Merit Selection is a hybrid appointive-elective system that stops the flow of money from lawyers, law firms, organizations and individuals who frequently appear in state courts," the four write in a letter to Gov. Tom Corbett and every member of the legislature.
"This is important for the integrity of the courts and is what the people of this state deserve. It is now up to lawmakers to do what is right for our judicial system. We can't allow time to continue to slip by with a system that clearly needs to be fixed," said Ridge.
Orie Melvin was recently convicted of misusing taxpayer resources during her 2009 Supreme Court campaign. While her attorneys determine their course as far as an appeal, lawmakers have begun to push for her to be removed officially from the Court.
Changes to the way Supreme, Superior and Commonwealth Court judges are selected would require an amendment to the Pa. Constitution. That process requires a bill to be passed by both chambers of the state legislature for two sessions in a row, then win a majority in a public referendum.
The former Governors say they don't propose to change the way local judges are elected.
Richard Alloway (R-Franklin) and Tony Williams (D-Phila) have introduced a merit selection bill in the state Senate.
But one of their colleagues, Sen. John Eichelberger (R-Blair), says merit selection will empower insiders at the expense of the voters.
He announced Wednesday that he will introduce a bill which establishes regional elections for appellate judges.
"Given the recent and historic corruption issues surrounding our appellate courts, there is an outcry for change," Eichelberger said in a statement. "Unfortunately, one of the alternatives that has been discussed publicly – 'merit selection'- many fear will further enable power brokers to hand pick political insiders for the courts."
"I believe regional elections would better safeguard against undue influence and assure geographic balance. It will also give voters a better opportunity to become familiar with candidates running in their region, and keep the selection of these important officeholders in the hands of the people, where it belongs," he said.
Update: Sen. John Wozniak (D-Cambria) also introduced a regional-based judicial election bill, which a spokesperson said is similar to Eichelberger bill.
"Recently, four former governors of Pennsylvania have endorsed a merit selection system for judicial elections," Wozniak said. "It is my opinion that regionalizing our appellate courts provides better representation to all corners of the Commonwealth, not just Pittsburgh and Philadelphia.  It is also important that the people actually recognize at least one of the judges on each of the benches."
From Wozniak's release:
The legislation would create seven districts for Supreme Court, seven districts for Commonwealth Court and seven districts for Superior Court. At each retention election for a judicial seat, a district would be randomly selected to be filled.

Requirements for office would be the same as they are now except to include a residency requirement identical to the state Senate requirement.
Here is the full text of the Governors' letter:
March 12, 2013
Re: Constitutional Amendment on Selecting Judges

We are writing in the spirit of bipartisan leadership to urge you to take action to implement a Merit Selection process for Pennsylvania's three statewide appellate courts.

The conviction of a Supreme Court justice for campaign corruption is just one more example that highlights the need for reform. Electing appellate court judges in divisive, expensive, partisan elections is not working for the people of Pennsylvania. This is an issue that transcends politics, party lines, and individual agendas.

Merit Selection is a hybrid appointive-elective system that stops the flow of money from lawyers, law firms, organizations and individuals who frequently appear in state courts. Merit Selection also is designed to get the most qualified, fair and impartial judges onto the appellate courts. Local judges would still be elected by voters in their districts.

Amending the constitution to change the way Pennsylvania selects appellate court judges is a decision that should not be undertaken lightly. Like all constitutional amendments, it is a topic worthy of extensive discussion and debate. We simply ask that you act to begin that process.

A positive vote in both chambers this session will represent the first hurdle in the constitutional amendment process. Both chambers would again have to pass the bills during the 2015-2016 session. If that happens, the issue would go on the ballot for a public referendum – a vote of the people.

Pennsylvanians want the opportunity to weigh in on this issue. In a poll conducted for Pennsylvanians for Modern Courts and PMCAction, 62 percent said they favor merit selection over the current election process, and 93 percent reported they deserve the chance to vote on the issue.

We understand that you often must make difficult decisions about how to vote. This decision should be an easy one – your vote here does nothing more than empower the people of Pennsylvania to decide for themselves whether there is a better way to select appellate court judges. As leaders, you owe this to them. We hope you will make it happen.

Sincerely,

Edward G. Rendell
Governor, 2003-2011

Thomas J. Ridge
Governor, 1995-2001

Dick Thornburgh
Governor, 1979-1987

George Leader
Governor, 1955-1959