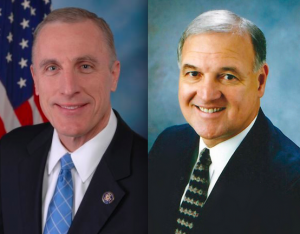 Larry Maggi received some help in his quest for PA-18: a fundraising email from former presidential hopeful and Army General Wesley Clark.
In the email, Clark says that both he and Maggi are veterans, and that Maggi understands the sacrifices made by those in the armed services and will never stop fighting for them.
Clark goes on to say that despite Maggi's honorable intentions, he is the "target of vicious attack ads bought and paid for by radical extremists who want to rollback important Democratic accomplishments that have made our country stronger and more prosperous."
Sounds like a good platform for raising money, right?
The only problem is, thus far in the race for PA-18, no group has spent money to target Maggi.
The language in Clark's email is likely universal for the candidates he is supporting in the 2012 campaign, but that didn't stop Rep. Tim Murphy's (R-Allegheny) campaign from calling out the email.
Tyler Foote, spokesperson for Tim Murphy, blasted the endorsement and called Maggi out of touch with southwestern PA values.
"No surprise Larry Maggi got his Beltway liberal allies engaged in this race, because Maggi shares the values of the Obama-Pelosi Team in shutting down coal and natural gas, expanding Obamacare, regulating American manufacturers into extinction and raising taxes on small businesses and middle class families," Foote said.
"Those are not southwestern Pennsylvania values. The voters elect Congressman Murphy by double-digit margins because he's working for them to keep the 911th Airlift Wing in Moon (Township), save southwestern Pennsylvania's steel jobs and stop China from cheating on trade so we keep our local manufacturing base."
The email from Clark should attract some additional attention to Maggi, albeit from both sides. Maggi has already shown that he can do some significant fundraising – as the best-funded challenge ever to Murphy – to give the Ds a shot at a pickup. But he is still trailing Murphy, and help from the Dems will stir up the GOP as they fight to retain the seat.