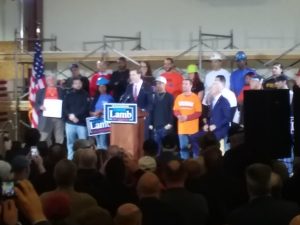 Former Vice President Joe Biden was in Pittsburgh last night, supporting Democratic candidate Conor Lamb in his bid for Pennsylvania's 18th Congressional District house seat. Biden started off the night with an appearance at a union hall in the Carpenter's Training Center in Collier Township; a fitting setting for a competitive political race that depends largely on union votes.
Speaking to a crowd of blue-collar workers not unlike the ones that brought Biden to political success, he said of Conor Lamb, "He reminds me of my son Beau" according to the Post-Gazette. Lamb, like the late Beau Biden, is a former military lawyer with a long family history in politics. Trying to flip the traditionally Republican district, Democrats are pushing hard to get Lamb across the line.  Biden went after the Republican tax reform bill.
"Paul Ryan has already announced… they're going to cut Social Security and Medicare," Biden said.  
Following the union hall event, Biden was joined by Lamb for a campaign rally at Robert Morris University.
Lamb praised Biden and welcomed his involvement in the race.  
"I don't think there's another person in public life today who knows in his bones the struggles [of workers]," Lamb said.  
Biden took aim at the nature of the congressional race, including the amount of money Republicans have been spending on the race.   
"Before this is over, Republicans might have been able to pay for their entire tax cut," Biden said.  
Biden continued to attack Republican targets like Saccone and Paul Ryan, elaborating that while Pittsburgh has recovered economically, "the suburbs, the exurbs, the smaller towns- they got hit really hard. And all the things that can really make a difference for them – Republicans talk about caring- but they're not doing anything."