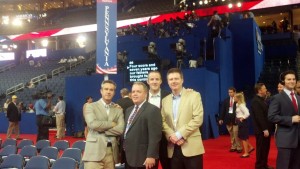 Democrats have been saying that Pennsylvania isn't in play for the Republicans. They've pointed to Gov. Corbett's limited presence at Romney-Ryan campaign stops and the state being downgraded from swing state to "learns Dem."
But despite these assertions, four Pennsylvanians found themselves playing a large role at the Republican National Convention by helping with whip operations and communication on the floor to keep order in all the chaos.
Chester County's David James, a partner at FLS Connect, was the floor whip manager for the convention.
Dauphin County's Dan Hayward, of Novak Strategic Advisers, was a floater on the floor – helping the whip team with any issues and questions they had.
Hayward said James was the orchestrator for a lot of operations on the floor, and said James was one of the reasons why communication on the floor ran as smoothly as it did.
"It worked…in large part thanks to him."
Hayward said that Pennsylvania often gets left out of the discussion because of their focus on grassroots organization and results, instead of worrying about image or press attention.
"PA delegates are hard workers, not braggers," he said, adding that Pennsylvania stayed focused to get the job done.
"That's what I saw when I was there, and I think it's great."
Lackawanna's Vince Galko, a senior vice president at Mercury Public Affairs, was a floor whip. He worked to inform the delegations about votes and other procedures while maintaining order and answering questions.
"It was an honor to have been asked to play a small part in such a great event," he said.
"Governor Romney and Congressman Ryan really fired up the troops and the RNC put on a terrific convention. It was a wonderful experience and I was thrilled to play a role. I am proud of our PA delegation and my fellow Pennsylvanians who worked behind the scenes at the convention."
Another Dauphin County resident, Chris Bravacos, was in the command center and helped with communication and logistics on the floor. He is the owner of the Bravo Group and former state party executive director.
But do they feel that the naysayers have a point, that Pennsylvania doesn't get enough attention?
Hayward, who worked the floor at both 2000's and 2004's conventions, said this was the first time Pennsylvania was front and center in recent memory with only two states in front of them: Michigan and Ohio.
"To me, that's a pretty important sign," he said.