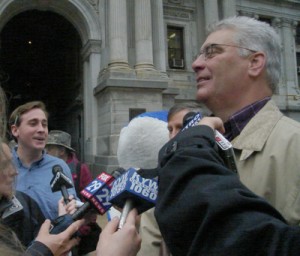 Political consultant Frank Keel has generally worked with Democratic candidates, but now he's crossing the aisle.
Keel has signed on to GOP Philly City Council hopeful Al Taubenberger's campaign.
"I have known and respected Al for many years and am honored to join his campaign team," said Keel. "Al is a man of great integrity and experience. He would be an outstanding addition to Philadelphia City Council and I look forward to working hard on his behalf to get him to City Hall."
Taubenberger is one of three challengers running against the two incumbent Republican Councilmen Dennis O'Brien and David Oh.
He is also the President of the Northeast Philadelphia Chamber of Commerce and was the GOP nominee for Mayor in 2007.
"I have admired Frank's work for many years," said Taubenberger. "He's a tough, respected political adviser and communications professional and we're thrilled to have him on our team."
In the past Keel has worked for Philadelphia Mayor John Street, State Attorney General Kathleen Kane, Councilman Bobby Henon, and former Councilman Jack Kelly.
Arguably his biggest client at the moment is IBEW 98 Business Manager John Dougherty. He is also in the midst of suing David Axelrod in an extraordinary lawsuit.