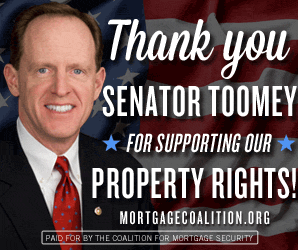 "Thank you, Senator Toomey, for supporting our property rights!"
That is what the latest ad by the Coalition for Mortgage Security says, with the Pa. Senator's photo situated in front of an American flag and words flanked by blue stars.
The Coalition for Mortgage Security is a nonprofit 501c4 organization that supports the ending of the government-sponsored Fannie Mae and Freddie Mac enterprises and replacing them with private entities.
"The Coalition believes that the right answer to the future of housing finance is a transition to the private market," the organization's website proclaims. "Our mission is to communicate to the public the need to responsibly wind down Fannie Mae and Freddie Mac while establishing a new system funded by private capital, with a limited role for government focused on strong regulatory oversight."
The group is spending nearly $50k on their online marketing campaign to promotes private capital in the housing market, and legislators who support such principles. Toomey and the Coalition have been outspokenly opposed to the Johnson-Crapo bill, which would wind down Fannie and Freddie but would replace them with a government agency.
The Coalition is ramping up advertising around the country, currently focusing on Pennsylvania and Idaho. A director of the Coalition Ken Blackwell recently wrote an op-ed for Fox News outlining what the organization hopes will come of the slow liquidation of Fannie and Freddie.
Fannie Mae and Freddie Mac were established by the U.S. government to expand the availability of mortgage loans to middle- and lower-class families. However, with the 2008 subprime mortgage crisis, it appeared as though the entities were taking advantage of their governmental status by signing off on risky loans that eventually aided in the onset of the debacle.