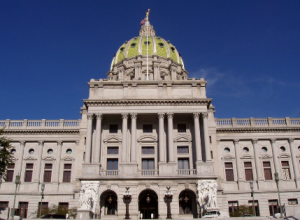 Where there is smoke there is fire, and House and Senate seemed to have caught it Thursday. Forward motion was felt on two of their biggest agenda items: transportation and liquor.
Here are the latest updates from the contentious budget fight.
This is a daily feature PoliticsPA will run until the state budget is passed.
House Committee OKs Transportation Bill: After days of delay, the House Committee on Transportation convened and voted on an amended Transportation package. Down from its original $2.5 billion price tag to a still formidable $1.9 billion, the legislation did not include controversial removal of prevailing wage provisions. It also delivers less than the original bill set aside aside for transit, but the cuts were not nearly as deep as proposed by Chair Dick Hess (R-Bedford) at the beginning of the week.
Details About New Liquor Plan Emerge: The Senate is expected to move Friday afternoon on an amended Liquor bill. Republicans held meetings all day to try and garner the 26 votes needed for the new proposal to clear the Senate. Amended provisions include the possible maintenance of PA's wholesale system and the retaining of state retail stores until they are outnumbered 2-1 by private stores.
Smith Suggests Pension Reform May Have to Wait: While no small deal pension reform has certainly gotten less attention than Corbett's two other legislative priorities. This may be why Speaker of the House Sam Smith (R-Jefferson) indicated that it may have to wait until the fall session.
Senate May Force House to Vote on Medicaid Expansion: An effort in the state Legislature to push the issue of Medicaid expansion may be picking up steam. Republicans and Democrats in the Senate have planned for at least a week now to include language to compel the expansion in a piece of welfare legislation that must accompany the state budget.
Higher Education Funding Flows Through Senate: The Senate yesterday approved $550 million in funding to state affiliated universities including Penn State. Democrats used the opportunity to highlight their belief that these institutions could use more transparency.
Lottery Privatization May Enter Budgeting Talks: After Attorney General Kathleen Kane's rejection of the program's privatization, the Patriot-News reports that part of the Governor's plans to keep lottery privatization alive would be to enter provisions into the budget which would allow for Corbett to have greater control over the program.