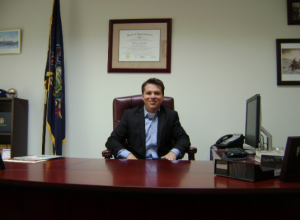 Brendan Boyle is six months into a job he could likely have for the rest of his life, if he so chooses.
The freshman Congressman was elected to Pennsylvania's 13th district, a seat Cook Political Report classifies as D+13, last November.
Since Boyle is still just thirty-eight years old, he has the opportunity to accumulate vasts sums of that still-precious congressional resource: seniority.
Already knowledgeable and with six years of experience in Harrisburg to his credit, he has the luxury of choosing his own path in Congress. For now, however, he seems content just to get off to a solid start.
At such an unique juncture in his career and life, I wanted to talk with Rep. Boyle about his transition to "the people's house". We also discussed America's relationship with Israel, the Iranian nuclear deal, and TPP among other topics.
Transition
Boyle faced a bruising primary but skated through the general election.
Oftentimes the jarring change from 24-hour campaigner to informed legislator can throw a freshman off. Boyle, though, asserted that he didn't have that sort of problem.
"That's where for me, the six years of being a State Rep. were helpful," he said. "The role of a State legislator has been more similar than dissimilar to that of a Congressman"
He also pointed out that in D.C. there are many more places to turn for information than a state capital.
"Frankly at the congressional level there are many more resources available in the nonprofit world that actually studies the way Congress functions," Boyle revealed.
Among those resources are preparation books from the Congressional Management Foundation and orientations with locations that vary from Washington to Colonial Williamsburg to the Kennedy School of Government (which he also attended).
Rep. Boyle also used this opportunity to discuss his beliefs concerning what a member of Congress is entrusted to do and how one can best achieve those goals.
"The core function of a representative is two different yet equally important jobs that happen to come under the same office," he stated.
"One is the policy and legislating and voting, which is incredibly important. Then there's the other half, which I care equally about, which is the constituent services operation and being a presence in your community."
He noted that while the former is what traditionally grabs headlines, the latter is what voters and constituents are most concerned with. Boyle's "two halves" concept encapsulates an inherent struggle every member of Congress must deal with. How can you balance your representative responsibilities with your duty to help craft national policy?
State of the Union
The first major event for new members of Congress is usually the President's State of the Union Address.
From personal experience, I can say that even empty the House chamber is extraordinarily smaller than one would expect. Packing the 535-person strong legislative branch into that room along with guests and media apparently creates quite a scene.
"It was incredible, it was one of those goosebumps sort of moments," the Congressman said of the experience.
"Fortunately, I had a pretty good seat so I shook hands with the President. It's pretty amazing the pomp and circumstance of it."
He mentioned that every legislator gets one guest ticket for the SOTU. In the heat of his election battle, during one of those exhausted moments when victory is really just a dream, he promised that spot to his brother, State Rep. Kevin Boyle. True to his word, both Boyle brothers witnessed President Obama deliver the 2015 State of the Union
One other tidbit I discovered: Apparently, the Supreme Court Justices don't socialize at any point before, during or after the event. The newcomer did mention, however, that he has met Justices Sotomayor and Ginsburg at other D.C. occasions.
Israel and Iran
Foreign policy was also a topic I wanted to dive into as Rep. Boyle now seats on the House Foreign Affairs Committee, a position that not even Harrisburg could prepare him for.
I planned to transition to foreign affairs by asking if he attended Israeli Prime Minister Benjamin Netanyahu's controversial speech to a joint session of Congress.
That question was already answered by a large, framed picture sitting on a side table of Boyle shaking the Prime Minister's hand in the aisle of the House floor.
We moved onto to H.R. 2645, his first piece of legislation, which seeks to blunt the momentum of the Israeli BDS movement.
"The model [for BDS] was apartheid South Africa," he explained. "It is just utterly disgraceful to compare the state of Israel today to apartheid South Africa of the 1970's and 1980's. I think it's important that Congress push back against that and say any analogy between South African apartheid and Israel is not only false, it's outrageous."
From there we moved to the Iranian nuclear deal. Boyle responded that he was concerned that the White House and EU/Iranian statements on the deal outline differed.
"It's certainly something that I think Congress should review and that we should have a vote on," he asserted.
I went on to ask whether he shares the perception prevalent among passionate opponents and even worried neutrals that President Obama and Secretary of State John Kerry want a deal too much.
"There's certainly people on the conservative end of the spectrum that will rip President Obama and Secretary Kerry no matter what they do," he answered while reiterating that he wants to wait for the final deal to be in place.
Shifting back to Israel, I asked about the worst kept secret in the world, that President Obama and Prime Minister Netanyahu despise each other.
"Back 25 years ago, George Herbert Walker Bush and Israeli Prime Minister Yitzhak Shamir had an even worse relationship-"
"James Baker" I interjected referring to Bush's Secretary of State who was not particularly known for his friendliness towards the Jewish State.
"James Baker made a pretty inflammatory comment that's still remembered today," Boyle responded.
"As awful as that relationship was, within a couple years, you had a new President in Bill Clinton, a new Israeli Prime Minister in Yitzhak Rabin and they got along extremely well. So I think rather than focusing on the kind of personal dynamics of the President and Prime Minister of the present day, it's better to take a step back and have the longer view."
Syria
After discussing Israel and Iran we moved on to the third major issue in the region, the chaos in Syria and the emergence of ISIL.
The Congressman began with a description of a classified two hour briefing General Allen held with members of the Foreign Affairs Committee.
"At the end of the two hours I said, 'So at what point do we start discussing the good options' and people chuckled because-"
"There are no good options?" I offered. "There are no good options," he confirmed.
Boyle went on to portray the region as battling a "millennium-old fight" between those who embrace modernity and those who have a narrow view of what Islam is. He even told a story about witnessing two Muslim women in Dubai walking side-by-side, one in full hijab, the other in the latest Parisian fashion.
As for the crisis in Syria, the Congressman cautioned about getting bogged down in the region.
"The Jordanian position on this I think is the right one," he said. "They absolutely have to lead this fight. That ultimately the idea that we're going to impose from the outside a settlement to this solution is incredibly naive."
"This is a struggle that they have to win themselves, it can not be imposed," Boyle continued. "But doing what we can, playing a supporting role, I think is the best strategy."
To finish off the subject, I made a reference to Sen. Lindsay Graham's recent comments about his foreign policy views.
"I joke that the slogan for the Lindsay Graham presidential campaign might be 'Give war a chance' because his enthusiasm for putting U.S. troops on the ground is extremely worrying to me," he retorted.
Trans-Pacific Partnership
We finished with the hottest debate in domestic politics right now, the Trans-Pacific Partnership.
Currently, Rep. Boyle is working in the group led by the popular progressive populist from Massachusetts Elizabeth Warren, who is fighting against the deal.
"[We're] doing what we can to prevent a very bad trade deal from happening," Boyle stated. "You've had now two decades of trade deals that have not benefited the vast majority of American workers."
Among the issues he had with TPP was the Investor-state dispute settlement (ISDS) which he contended would allow other countries to sue the U.S. over certain practices.
"I'm not anti-trade but I'm pro-fair trade," he concluded.
Finally, I asked him what Sen. Warren was like leading those meetings.
"She's a very nice person," he said. "It's been helpful for me when I've had a question because a lot of this is extremely intricate and she's been working on it for decades. So the ability at these meetings to go 'Elizabeth, alright give me the 411 on what exactly this means. Do I have this right?' Incredibly nice, incredibly smart, speaks with no notes and very passionate."
After we wrapped, he reiterated his respect and admiration for President Obama since we had touched on issues in which the two disagreed. He mentioned how much it meant to him and his family that the President had given his father a shout-out at the White House St. Patrick's Day reception.
You could sense how proud he was that (along with his brother) he could bring his father from the SEPA station to the East Room.
All this time, I was focused on the future of a man who is actually driven by his past.