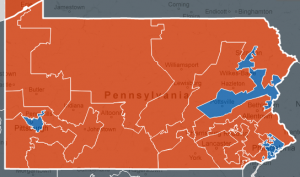 In a continuation of Gallup's "State of the States" series, the polling service revealed the ideologies of each state.
Gallup writes that ideologies have remained quite similar across the 50 states. The results of the survey generally coincide with the political orientation of each state in elections, presidential job approval, and political party identification.
The results for Pennsylvania showed 34.8% of the state identified as conservative, 36.9% as moderate, and 22.8% as liberal. The results gave conservatives a 12% advantage. The 12% advantage placed Pennsylvania 34th in the country in terms of a conservative advantage.
Pennsylvania's neighbor Ohio holds a conservative advantage of 16.1% while West Virginia holds a 21.7% advantage.
The results of the survey were based on phone interviews from January 2 to Dec 30, 2014 with a random sample of 177,034 adults. The margin of error for individual states is no greater than +/- 6%. Gallup asked individuals if they identified as very conservative, conservative, moderate, liberal, or very liberal.