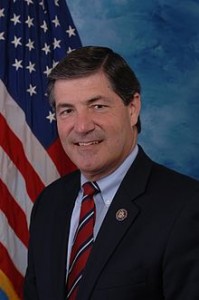 Retiring Rep. Jim Gerlach (R-Chester) will testify in favor of a bill that he has introduced whose purpose is to restore an equal balance of power between the President and Congress.
The bill, entitled Enforce the Take Care Clause Act (H.R. 3857), references the Take Care Clause in Article 2 of the U.S. Constitution. The purpose of this clause is to make sure that the President faithfully executes all laws, even if he does not agree with certain aspects or purposes of them.
Gerlach's legislation would authorize either the House or the Senate to bring an expedited action before the U.S. District Court for the District of Columbia looking for review and declaratory or injunctive relief. This would only be possible if a resolution passes in either chamber by a 60 percent supermajority and will be used only in the event of a President failing to meet the requirements of the Take Care Clause.
Then, the decision of that court would need to be released within 90 days. This decision would be immediately and directly appealable to the Supreme Court for a final say on the President's potentially unconstitutional actions.
In laymen's terms, this means that in the event of the President failing to "faithfully execute the law", Congress will be able to sue him.
Gerlach will testify in favor of H.R. 3857 before the House Judiciary Committee on Wednesday.
Supporters of the bill include Representatives Diane Black (R-MD), Tom Rice (R-SC) and Ron DeSantis (R-FL).
Early in January, Gerlach announced that he would not be seeking a seventh term in the PA House for Pennsylvania's 6th District. The rumor mill quickly began to turn, and for a while names were thrown around as to who would go for Gerlach's seat. In the end, Democrats Dr. Manan Trivedi and Mike Parrish landed in a Democratic primary against each other.Chester County Commissioner Ryan Costello is the lone GOP member waiting to see who his opponent will be come the May primary.