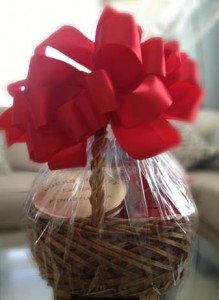 When is a gift not really a gift? When you're a newcomer running for office and the other party is trying to define you before you can define yourself.
That's the goal behind the GOP's latest jab, which involved sending a "Welcome to Bucks County" gift basket to an upcoming Kevin Strouse fundraiser.
According to the NRCC, the basket contains:
-Philadelphia Phillies hat
-Philadelphia Eagles eye stickers
-Bucks County street map
-Bucks County pen
-Bucks County tin for storing souvenirs
-Brochures highlighting the many tourist attractions in Bucks County
Strouse is hoping to challenge Rep. Mike Fitzpatrick (R-Bucks) next November.
"While Kevin Strouse may choose to have his first campaign event outside of his district in Philadelphia, he has a lot of catching up to do in order to learn about Bucks County and the rest of the 8th District," said NRCC Spokesman Ian Prior. "It's going to take more than support from Nancy Pelosi and the DCCC for Strouse to make a coherent argument as to what makes him uniquely qualified to represent a district he knows nothing about."
Strouse's campaign fired back.
"If Republicans in Congress like Mike Fitzpatrick spent half as much time creating a positive agenda to help middle class families as they do thinking of ways to mock and smear veterans looking to continue serving their country, we'd all be better off," said spokesman Justin Lamorte.
The gift basket will supposedly be heading to the Pyramid Club on Market St. in Philadelphia, where today Strouse will hold a fundraiser with DCCC Chair Steve Israel (D-NY). Strouse was named one of the campaign committee's "Jumpstart" candidates last month.
Lest the irony be lost, the NRCC is based in Washington DC. Rep. Fitzpatrick's office routinely declines comment on campaign-related issues, instead deferring to the national committee.
Strouse was born in Delaware County and moved with his family to Bensalem in March. He also has been tagged as an outsider by his primary opponent, businesswoman Shaughnessey Naughton.
Naughton grew up in Bucks County but was registered to vote in the 2nd congressional district until earlier this year. She announced her candidacy in May.