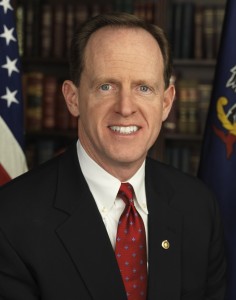 It's a tale as old as time: no matter how good the economic indicators in an election year, the party out of power goes on the attack. When the Sept. 2004 jobs report came out for example, Democrats blasted Pres. George W. Bush over 5.4 percent unemployment – despite that being a 3 year low.
Now it's the GOP's turn to rain on President Obama's parade.
Senator Pat Toomey along with Congressmen Bill Shuster and Mike Kelly, and congressional hopeful Keith Rothfus held a press conference in Pittsburgh Friday to criticize President Obama for an anticipated poor jobs report.
There was just one problem: the Bureau of Labor Statistics released one of the country's best job reports since Obama took office.
Unemployment fell to 7.8 percent in September, its lowest rate since January of 2009, and 110,000 new jobs were added. The BLS cited a higher labor force population, not people stopping the search for a job, as the reason for the drop in unemployment. Another big win for Obama was the revision of the July and August job reports, revised up to 181,000 and 142,000 respectively.
It helps to counteract the GOP's response to months of tepid jobs reports, that unemployment is falling because people are giving up looking for work. Republicans note that labor force participation is low, undermining the BLS numbers.
However, these numbers did nothing to halt the criticism of President Obama and his policies from our Pennsylvania politicos.
"As Vice President Biden admitted earlier this week, the American people and especially middle income American families have been buried under President Obama," said Kelly. "When proposing his stimulus bill, the president promised us 5.3 percent unemployment, a promise we are still waiting for at the cost of the taxpayers."
Shuster, in typical Western PA fashion, cited Obama's war on coal and natural gas as "job killing" policies.
"President Obama has waged a war on the coal and natural gas industries in Pennsylvania and around the country, killing jobs and preventing new job creation and economic growth for middle class Americans who are already struggling to find work," he said. "A second term would continue to see devastating tax increases, regulations and debt that have slowed our recovery and kill more than 700,000 jobs."
Despite the groans and moans, this jobs report is a much needed boost for Obama following his lackluster performance in the first presidential debate.
And speaking of jobs numbers being revised, look for Democrats and Republicans to switch sides on the jobs conversation when Gov. Tom Corbett and Pa.'s GOP elected officials are up for re-election in 2014.