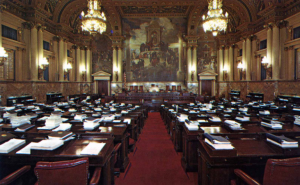 With the next fiscal year beginning July 1, the PA House of Representatives has finalized its proposed budget. The $29.1 billion dollar spending plan passed 110-93, with most Republicans voting yea and Democrats voting nay.
GOP budget designers chose to spend $300 million less than Gov. Corbett proposed in February; in part due to the lesser amounts of taxes collected. The plan increases spending by 1.9%, yet places no extra tax burden on Pennsylvanians.
Though Gov. Corbett's "Ready to Learn" block grant to fund public education was not directly included in the proposed budget, the plan will provide $10.3 billion for K-12 education.
The budget, as currently written, is balanced, however it relies upon $380 million that would result from the privatization of liquor sales in the state. There are reports, however, that this effort would not survive the State Senate.
The budget is balanced and funds the states most crucial needs, according to House Appropriations Committee Chairman Bill Adolph (R-Delaware).
Adolph stated, "this is a solid spending plan that puts the priorities of our citizens first and makes sure we are good fiscal stewards of the taxpayers money."
GOP leadership is confident that the proposed budget is one that "represents spending priorities supported by our constituents."
House Democrats counter that the increase in education spending does not counterbalance the funds diverted three years ago to reform the pension system. Continuing to call for a 5% severance tax on natural gas drillers, Democrats claim that tax would raise $700 million.
Governor Corbett's administration and the Senate will meet to discuss the proposal during the next few days. The Governor told legislative leaders last week that raising taxes are out of the question until the pension funding issue is adequately funded.