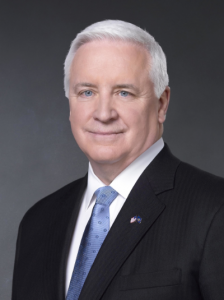 Governor Tom Corbett is 50/50 to retain his seat according to the latest rating of the 2014 elections by a national observer.
It's a better forecast for Corbett than three other national pundits have given in the past month. Elections handicappers Larry Sabato, Stu Rothenberg and most recently the Washington Post have all said that the race actually leans in favor of Democrats.
Here's the writeup from Governing:
Pennsylvania Gov. Tom Corbett (R)

Corbett's liabilities continue to mount, and there is a growing sense that he may not be able to recover. A leaked Republican poll taken in April and May found that 65 percent of voters said Corbett didn't deserve to be re-elected, with just 28 percent saying that he does. Even Republicans in that poll backed him by only a three-point margin. Making matters worse, Corbett recently suffered defeats in the GOP-controlled legislature, with a failure to approve any of his three big policy initiatives on infrastructure spending, liquor privatization and state employee pensions. It is those failures, say state GOP operatives, that have led to "rampant" speculation that calls for the governor to step aside will mount in the coming months. Corbett has time to recover, and having an actual Democratic opponent should help focus his message. But for now, he's in dire need of some good news. On the Democratic side, U.S. Rep. Allyson Schwartz (who led Corbett by 10 points in a recent Quinnipiac poll) and state Treasurer Rob McCord occupy the first tier, with former White House environmental staffer Katie McGinty and former revenue commissioner Tom Wolfe also potential challengers. The way things look now, Pennsylvania's post-World War II streak of giving each party exactly eight years at a time in the governorship is at serious risk of coming to an end.