By Keegan Gibson, Managing Editor
One has served in Harrisburg since 1997, the other is barely finished with her first month. But two PA Senators have caught the eye of Governing, the DC-based magazine that covers state and local politics across the country.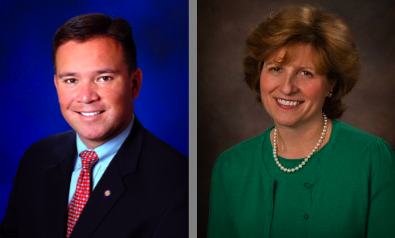 State Sens. John Pippy (R-Allegheny) and Judy Schwank (D-Berks) were named among the sixteen Republican and twelve Democratic "Legislators to Watch," in the magazine's latest feature.
The write-up of PA Sen. John Pippy:
Pippy was born in Thailand to a member of the U.S. Air Force and his Thai wife. Pippy came to Pennsylvania with a degree from West Point and has served in the Senate for almost a decade. Pippy, who's married to another West Point grad, not only served in Iraq but won his Senate seat while doing it. "He — and his wife — badly want him to go onto a bigger stage," said a political observer in western Pennsylvania.
The write-up of PA Sen. Judy Schwank:
Following the death of the Democratic incumbent in the Reading-area district, Schwank successfully won the seat despite a strong GOP push in a March special election. Schwank studied agricultural economics at Penn State and has previously won election to the Berks County Commission. She doesn't have much of a record yet, given her brief service, but one political observer in Pennsylvania noted that she "sits in the minority, with both chambers and the Governor's Mansion under Republican control. It should provide her with lots of opportunity to make speeches without having to take many tough votes."
The criteria was the same for each party:
We assembled this list by seeking nominations from our network of sources in the states, as well as national experts on state legislatures.
In seeking nominations, we assumed that ambition was a given. We wanted to feature politicians with a long future, particularly with the possibility of winning higher office at the state or federal level.
We looked for leadership qualities, demonstrated either through formal leadership posts or service in junior positions where a legislator showed unusual initiative. The ability to strike alliances across party lines was a plus, as was a record of leading his or her party to noteworthy gains. We gave special weight to those who have a compelling personal story to tell.