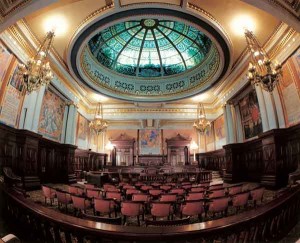 It's not often all six of Pennsylvania's living governors can agree on something, but the pricey Supreme Court battle in 2015 pointed out "serious flaws" in the state's judicial selection system.
Former Governors Dick Thornburgh, Tom Ridge, Mark Schweiker, Ed Rendell and Tom Corbett joined Tom Wolf in calling for a constitutional amendment to ensure merit selection for statewide appellate judges.
"The 2015 judicial election season was an inauspicious start to what should be a new era of spotless judicial ethics following years of public scandal," the Governors wrote last week in a letter to all House members. "This was not the candidates' fault: they must run within the broken system of expensive, partisan elections."
Schweiker called the constitutional amendment a "commonsense solution" to ensure judges "meet more than the minimum standards," while Rendell said an amendment is "long overdue for our courts."
A proposed merit selection amendment was reported out of the House Judiciary Committee in October.
"For Pennsylvania to have the most qualified, fair and impartial judges, we need to have a process in place that allows for a disconnect between the judicial system and political campaigning and fundraising," Rendell said.
Merit selection would require judicial candidates to apply to a bipartisan commission, which would recommend qualified judges to the Governor. The Governor must then nominate a judge to fill the vacancy, who would undergo the Senate confirmation process.
A confirmed judge would serve an initial four-year term. The judge would then stand for a yes-or-no retention election for a 10-year term.
"As former governors, we stand together on this critical issue because we believe this is an important step in regaining the integrity of Pennsylvania's judicial system," Ridge said in the letter. "Merit selection will place judges in our legal system who can simply focus on justice and not fundraising and campaigning."
Judicial selection changes for Commonwealth, Superior and Supreme Court justices would require an amendment to the PA Constitution. To amend the constitution, a bill must be passed by both chambers for two sessions in a row, before being approved in a public referendum. Common Pleas and magisterial judges would continue to be elected.