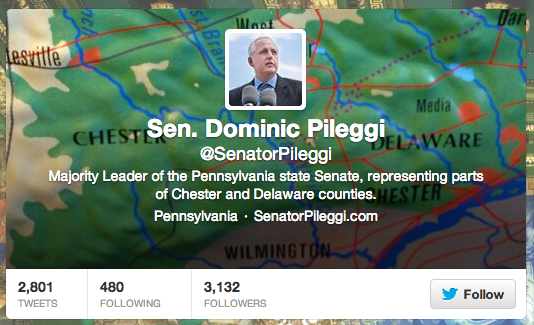 Last month, we took a look at the social media presence of the gubernatorial candidates. This month, we thought we'd examine the records of the state's legislative leaders.
As in the case of our gubernatorial review, our grades reflect the size and depth of a member's following as well as the quality of their social media output.
Dominic Pileggi
Senate Majority Leader (R-Delaware)
Grade: A
Twitter Followers: 3,131
Facebook Likes: 1,484
Dominic Pileggi is our winner for a number of reasons. The obvious is that he has the most Twitter followers and Facebook likes of all the other legislators. His accounts are also the most up-to-date and informative. Additionally, the quality of his accounts are above and beyond those of his contemporaries; the State Senate chamber as the background of his Twitter account was a particularly nice touch.
Joe Scarnati
Senate Pro Tempore (R-Jefferson)
Grade: B-
Twitter Followers: 1,906
Facebook Followers: 764
Joe Scarnati has impressive numbers and maintains frequent postings on Twitter and Facebook. The Senator does lose some points, however, on style as both pages are devoid of anything to make them stand out in any way.
Mike Turzai
House Majority Leader (R-Allegheny)
Grade: C+
Twitter Followers: 2,006
Facebook Followers: 138
Mike Turzai and the others above deserve credit for having both Twitter and Facebook accounts as all the remaining leaders of the State House on this list are missing one or the other. The quality of the Majority Leader's pages, however, is lacking. Rep. Turzai's Facebook number is also noticeably and inexplicably terrible.
Jay Costa
Senate Minority Leader (D-Allegheny)
Grade: D+
Twitter Followers: None
Facebook Followers: 580
Sen. Jay Costa, despite being the Democratic leader in the State Senate, doesn't appear to have a Twitter account. That is a major reason why Sen. Costa's grade is so low. While his Facebook account is decent, he has a relatively low number of followers.
Sam Smith
Speaker of the House (R-Jefferson)
Grade: D
Twitter Followers: None
Facebook Followers: 907
While Sen. Costa's failure to have a Twitter account is bad, Speaker Smith's is even worse. Not only that, but his Facebook account is the least updated of all the other leaders.
Frank Dermody
House Minority Leader (D-Allegheny)
Grade: D-
Twitter Followers: 1,896
Facebook Followers: None
Rep. Dermody is our unfortunate last place finisher. The top-ranking State House Democrat has a Twitter account with a decent number of followers, although it is not very active. Somehow, he has no Facebook account, which makes little sense in the year 2013.