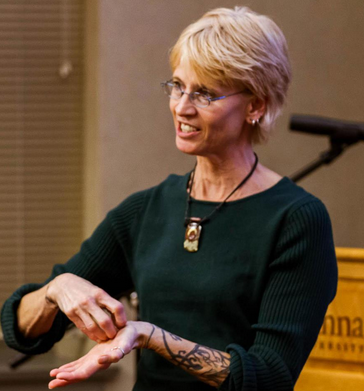 Pennsylvania's Green Party has officially announced their chosen candidate for lieutenant governor. Dr. Wendy Lynne Lee will join the party's gubernatorial candidate Paul Glover in an attempt to break into the two-party system.
Lee is a professor of philosophy at Bloomsburg University of Pennsylvania. She specializes in the philosophy of language, the philosophy of animal cognition, environmental and feminist theory. She is known as an active opponent of fossil fuel extraction.
Lee runs a blog called The Wrench, where she states in her profile, "I am a writer. I chose philosophy as the best possible tool with which to wrench into being what I saw to be true, beautiful, and knowable–often uncomfortable compatriots. I have been intimately involved in the feminist movement, the queer identity movement, animal rescue, and the movement for an ecologically desirable future for many years."
She wrote a book, "Contemporary Feminist Theory and Activism," and is one of the founding executive members of the Shale Justice Coalition. The group states the following on its site:
It is a coalition of anti-fracking and other environmental groups focused on issues revolving around fossil fuel extraction, particularly but not exclusively, slickwater, horizontal hydraulic fracturing. The aim of the coalition is to share information, event notifications, action-planning, and so on among the various related groups in Pennsylvania in a more timely, efficient, productive fashion in the interest of a common goal: the end of the destruction to health, community and environment posed by fracking and other forms of fossil fuel extraction.
Glover's own nomination was announced earlier this month. Glover, a Philadelphia entrepreneur and former professor of urban studies at Temple University, said, "I'm pleased to campaign with such an effective advocate for clean water, which is the foundation of our communities, businesses and jobs."
The chair of the state's party Jay Sweeney said, "The Green Party of Pennsylvania is proud to offer voters the choice of two prominent thinkers who articulate a vision not only for the Commonwealth but for humanity."
Getting on the ballot as a third party in Pennsylvania is not an easy feat. While Republican and Democratic candidates only need 1,000 or 2,000 signatures, Pennsylvania's laws require third party candidates to nab an amount of signatures equal to 2 percent of the total votes received by the most popular candidate for statewide office in the previous general election. This is due to the lack of primaries for third parties in Pennsylvania.