Greenleaf Loses NH Primary to Mitt Romney
By Megan O'Brien and Keegan Gibson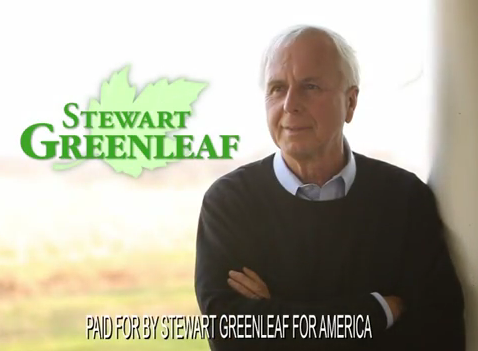 In case you weren't already sure, Pa. Sen. Stewart Greenleaf is not running for President.
He said as much in a web video he released to advertise his "bid" – in case you were not among its 179 viewers on YouTube (below). You can view his presidential website here.
"I'm not asking for your vote," Greenleaf said. "Instead, I took this step simply to put forth ideas to help America prosper by getting our fiscal house in order and driving economic growth."
The people of New Hampshire listened. With 95 percent of precincts reporting in the Granite state, Greenleaf had netted 22 votes. Former Massachusetts Governor Mitt Romney had polled at the top of the pack for weeks; he finished with 95,666 votes.
Like you're so great. How many people have ever voted for you for president, huh?
When Greenleaf launched his quixotic bid on October 28th, putting his name on a ballot that contained almost as many people as the whole senate of Pennsylvania, well, one can only say that there has been a little bit of skepticism.
Pennsylvania political expert Terry Madonna told Gary Weckselblatt of the Bucks Intelligencer, in point-blank fashion, "He's certainly not even on the radar of anyone for the presidency and is clearly not going to be the nominee."
Many wondered if the move was not simply a push for publicity, either for Greenleaf himsel, or for his son Stewart Greenleaf Jr. who appeared on the Montgomery County ballot the next week. (He ended up winning the post of County Controller).
His 22 New Hampshire votes earned him 21st place, behind fellow Pennsylvania native Bear Betzler of Philadelphia.
The Philadelphia management consultant, who said from the get-go that he, "was not that into politics," managed to score 29 votes.
Greenleaf, 72, has served in the Pa. Senate since 1979 and is chairman of the Judiciary Committee. New Hampshire has some of the loosest ballot access laws in the country, allowing candidates to file with 0 petition signatures and a $1,000 fee.