Grover Norquist, the powerful conservative head of Americans for Tax Reform, is spending $495,000 to defend Republican Keith Rothfus against attacks related to his famous pledge.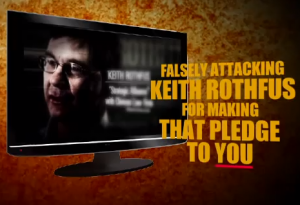 "It's a simple pledge to not raise your taxes. Mark Critz and his allies are attacking Rothfus for making that pledge to you," says the ad's announcer, referring to a commercial from the Democratic Congressional Campaign Committee.
"Now, they want more more of your money for more of their failed ideas. Don't be fooled. It's a simple pledge and a simple choice."
Democrats, including Critz and several outside groups helping him, have used Rothfus's support for the pledge as the basis for several attacks. Most common among them is the criticism that Rothfus would refuse to raise taxes on companies that "ship jobs overseas". That's technically accurate, because pledge-takers promise not to raise any taxes (although the pledge permits shifting tax burden, so long as the net rate remains the same).
Critz's campaign kept up that attack when responding to the ad.
"Grover Norquist and his special interest group embody everything that is wrong with Washington," said Critz spokesman Mike Mikus. "Norquist's group is fighting to protect tax breaks for companies that ship jobs overseas."
"They oppose closing any corporate tax loophole no matter how egregious and they oppose efforts to make millionaires pay their fair share in taxes. Now they are attacking Mark Critz because they know that Keith Rothfus will carry their water in Washington by supporting tax breaks for companies that ship jobs overseas and he'll cut taxes for millionaires to pay for ending Medicare which will costs seniors an additional $6,400 per year."
Chris Moody of Yahoo! News first reported the buy, ATR's first of the 2012 cycle.
The 12th congressional district race is the most competitive in Pa. this year and, as Alex Isenstadt of POLITICO notes, the 3rd most expensive in the nation.