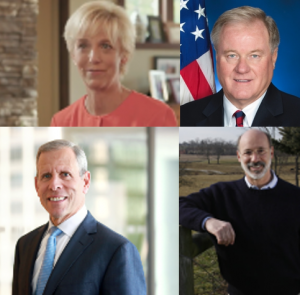 The United Way of Pennsylvania released the responses it received from Governor Tom Wolf and Republican candidates Laura Ellsworth and Scott Wagner.  Republican Paul Mango declined to respond to the
The nine question survey covered the state budget, financial stability, education, community strengthening, and health.  
On the budget, United Way asked if the candidates would support an amendment to state law that would allow federal and state money that "directly impact[s] the health and safety of Pennsylvanians" to be paid during an impasse and what they would do to avoid an impasse.  
"I have supported measures to ensure the state would help to pay interest on loans taken by service providers during a budget impasse," Wolf said.  
Wolf also touted his "no budget, no pay" proposal that would halt lawmakers pay during a budget impasse.  
Ellsworth pushed against Wolf in her response blaming him for the late budgets during his term so far, and said she would "work collaboratively to develop the Governor's initial budget" and "not allow "crisis mode" budgets in 11th hour 900-page legislation."  
"By implementing a commonsense approach such as zero-based budgeting, we will have the ability to budget in a meaningful and transparent manner that makes sense for taxpayers," Wagner said.  
On education, Wolf touted his signature on the fair funding formula bill that redid how Pennsylvania sets school budgets on the state level.  
"The formula accounts for factors such as the wealth of the district, the district's current tax effort, the ability of the district to raise revenue, the number of children in the district who live in poverty, the number of children enrolled in charter schools, and the number of children who are English language learners. I will continue to fight to make sure that low income districts are getting their fair share of funding to help them succeed," Wolf said.
Ellsworth pushed for increased choice for students and parents.
"One strategy I would employ to reduce the achievement gap between low, middle and high income students is school choice. Different children learn best in different environments.; Some children learn best in a big, bustling public school; some children learn best in a small, values-based religious school; some children learn best in a self-directed classroom; while others thrive in an arts- or sports-based environment or in an on-line learning environment. We must meet our children where we find them, and provide the breadth of learning environments that best meet their diverse needs," Ellsworth said.  
Wagner said he would push for an increase in federal funding for the 21st Century Community Learning Centers program Pennsylvania currently participates in.  
"As Governor, I would lobby the federal government and request that they increase their funding so that we are able to increase access to these beneficial programs statewide. Even with additional federal funding, this too is an area where access to private funding would be most beneficial. Incentivizing local businesses and individuals to donate to these valuable programs will keep the money local and enable these programs to continue to be successful for all," Wagner said.