One month after the shooting at Sandy Hook Elementary School, twelve eastern Pa. mayors gathered for a press conference in Media, Pa. They urged Congress to take action on gun violence.
The event, organized by the Mayors Against Illegal Guns organization, marked the release of a new television ad featuring family members of gun violence victims. They implored national political leaders to limit the accessibility of guns to criminals.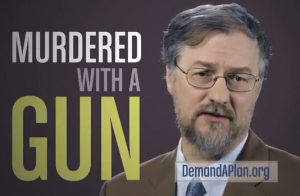 The ad will air on national cable and on cable in the Philadelphia and Lancaster areas. It was produced by the firm Devine Mulvey and paid for by the Mayors Against Illegal Guns Action Fund.
A spokesperson for the group declined to specify the size of the buy in Pa. Typically when an organization keeps such numbers close to the vest, it means that they aren't spending much. Most likely, the ad is targeted to drive news coverage more than influence average viewers.
Mayors Against Illegal Guns is a coalition of more than 830 mayors, making it the largest gun violence prevention advocacy organization in the country. Its co-founder and most vocal member is New York City Mayor Michael Bloomberg.
The group supports several federal measures including requiring universal background checks for firearms purchases and an outright ban on the sale of so-called assault weapons and high-capacity ammunition magazines.
"We all agree that we need to keep guns out of the hands of criminals, terrorists and people who are seriously mentally ill, but about 40 percent of guns are sold in this country without federal background checks. It's not an infringement of the Second Amendment to require background checks for anyone who buys a gun," said Jayne Young, the Mayor of Lansdowne and one of the participants in today's press conference.
Keegan Gibson contributed to this report.