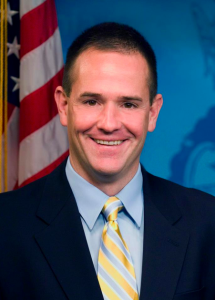 State Rep. Kevin Haggerty, whose district includes part of Scranton, is not impressed with President Obama's plan to visit the Electric City.
Over the weekend, Haggerty blasted the President in a Facebook post for a trip he characterized as an effort to gloss over the region's economic problems.
"Our families are out of work and all the president continues to do is tour the country like Bruce Springstein [sic], as though seeing his face is some kind of prophetic inspiration," he wrote. A screenshot of the post was obtained by PoliticsPA.
"Forget the speech Mr President. We are not dumb. Why don't you spend a few nights here, sit down in closed doors and ensure we don't turn out like Detroit."
He also took aim at the NBC sitcom 'The Office,' which was set in Scranton. "The nation mocked us for more than a decade through the eyes of a Hollywood sitcom," he said.
Haggerty's district includes Lackawanna College, a two-year vocational school where Obama is scheduled to speak some time Friday.
Haggerty, 41, was elected in 2012 after defeating incumbent Rep. Ken Smith in the Democratic primary.
Knocking the President could be a risky decision for Haggerty. Thanks to redistricting, he's likely to face a member-vs-member primary against state Rep. Frank Farina (whose district is being sent south to Monroe County). 49% of registered Democrats in the newly drawn 112th are Haggerty's current voters. 43% reside in Farina's current district.
Here's Haggerty's full Facebook post: