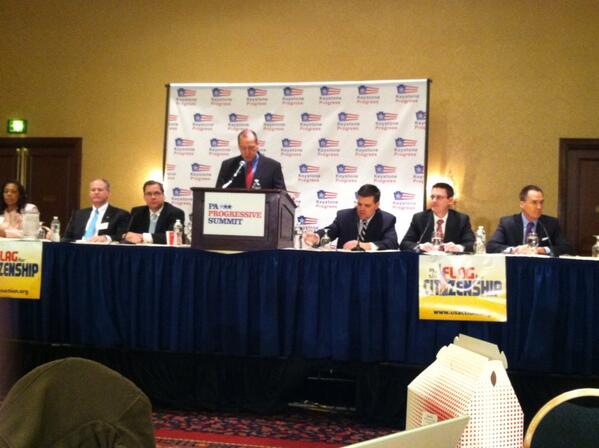 Following strong performances in their respective debates this weekend, Koplinski and Hanger left the Progressive Summit with straw poll wins.
During the Governor's candidate debate on Friday night and the Lieutenant Governor's candidate debate on Saturday, Summit volunteers circulated straw poll forms for attendees to select their choice for each office.
Hanger is clearly the most progressive candidate running for governor and explained this well during the forum; after the votes were tallied, he took 31.5%, State Treasurer Rob McCord came in second with 24%, former Revenue Secretary Tom Wolf in third with 22.8%, former DEP Secretary Katie McGinty with 10.9%, Rep. Allyson Schwartz with 9.4% and former Auditor General Jack Wagner and Lebanon County Commissioner Jo Ellen Litz both took less than 1%.
Wagner was not in attendance this weekend.
In more scientific polls from last weekend, the results were quite different. In the latest F&M poll, Wolf took 36%, Schwartz took 9%, McCord took 3%, and McGinty and Hanger tied at 1%.
The Lieutenant Governor straw poll showed an even more resounding victory for Harrisburg City Councilman Brad Koplinski who won with 59.7%, followed by State Senator Mike Stack with 22.7%, City of Harrisburg adviser Brenda Alton 10.4%, former Congressman Mark Critz with 4.5%, Bradford County Commissioner Mark Smith at 1.3% and Jay Paterno, the newest entrant to the race, brought up the rear with .6%.
State Rep. Brandon Neuman did not attend the Summit.
Again, the more scientific polling from last week out of Harper Polling showed different results. Paterno led the wide field with 17%, Critz came in a close second with 16%, followed by Neuman at 7%, Stack at 6%, Koplinski at 4% and Smith at 2%. Alton was not polled, which she mentioned in the forum on Saturday.
The results of these straw polls reflects the furthest left wing of the Democratic party, and their selections are not surprising. Koplinski and Hanger embraced a single-payer option; Hanger wrote the public land moratorium on drilling and Koplinski favored a no-new-drilling policy. Hanger gave a strong pitch for his progressive marijuana policies and Koplinski promoted his experience writing buffer laws for women's health clinics in Harrisburg.