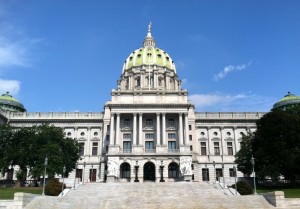 It's 2013 and we're back! Check out our list of the best and worst ads of 2012. We have the roll call on how members of Congress from Pa. voted on the fiscal cliff deal. And don't miss the year end Ups & Downs. Good morning politicos, here's the Buzz.
PS. Welcome to Harrisburg, new lawmakers.
The Best and Worst Ads of 2012: Based on our observations, your submissions, and conversations with Pa.'s top politicos, here is PoliticsPA's list of the best and worst ads of 2012.
2012 Ups & Downs: Another election is in the books. See who had a good year in 2012, and who wishes the Mayans had been right.
Entire Pa. Delegation Votes for Fiscal Cliff Deal: Every Republican and Democrat who represents Pennsylvania in the U.S. House or Senate this week voted in favor of a deal to avert the so-called 'fiscal cliff.'
Dems Pick Their Man for DePasquale Seat: Eugene DePasquale has yet to vacate his state House seat and step into his new role as Auditor General, but York County Dems have already selected Kevin Schreiber, 32, as their de facto nominee.
Politically Uncorrected: In 2013 Expect the Unexpected: Madonna and Young look at some of the biggest surprises from 2012 and list a few unlikely surprises in 2013.
Editor's note: we will return to the full Buzz (i.e. including press clips) on Monday.