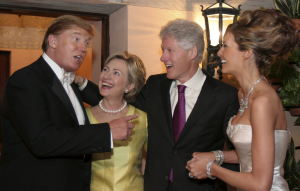 The front-runners are still in the lead…but for how long?
In August, Quinnipiac surveys of Pennsylvanians found Hillary Clinton still ahead in the Democratic primary while Donald Trump jumped in the lead in the GOP primary.
According to new surveys from Harper Polling, Clinton and Trump are still the front-runners but their competitors are gaining on them.
Republican Primary
Trump still leads with 30% but the big gainer is Ben Carson who stands at 27%.
All the other candidates are in single digits with Jeb Bush, Marco Rubio and undecided all tied at 7%.
Rounding out the field were: Ted Cruz (6%), Carly Fiorina (3%), John Kasich (3%), Rick Santorum (3%), Scott Walker (3%), Rand Paul (2%), Chris Christie (1%) and Mike Huckabee (1%). Jim Gilmore, Lindsey Graham, Bobby Jindal, George Pataki and Rick Perry all received no support.
Since the poll was taken, Rick Perry and Scott Walker have dropped out.
Harper also asked respondents that chose Trump why they were supporting him.
40% said that it was because he is a "straight talker", 36% because he's a "political outsider", 12% side with him as a result of his stance on immigration and 10% cite his "business success".
When asked who their second choice after Trump would be, they answered the following way: Carson (37%), Cruz (15%), Bush (14%), Fiorina (8%), Rubio (6%), Paul (5%), Walker (4%), Christie (3%) and Santorum (3%).
Democratic Primary
On the other side of the aisle, Hillary Clinton leads with 38%. Joe Biden, a Scranton native whose yet to declare his intentions, has moved into second place with 23% while Bernie Sanders sits at 19% in third.
Martin O'Malley and Lincoln Chafee each received 3% while Jim Webb finished with 1%.
When broken down by demographic groups, Clinton is ahead among all segments of voters except 18 to 39 year-olds, who prefer Sanders.
Harper Polling surveyed 369 likely Republican primary voters and 304 likely Democratic primary voters land line interviews conducted using Interactive Voice Response (IVR) on September 9th and 10th. The margin or error is +/-5.1% and +/- 5.62% respectively.