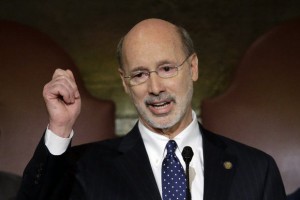 There's good news and bad news for Governor Wolf.
The good news is that, despite the budget stalemate, his own favorability ratings have been stable. The bad news is that Pennsylvanians feelings about the state have not been.
According to the latest survey from Harper Polling, Gov. Wolf's favorability rating is at 49% for the third consecutive poll.
Since last May, his favorability hasn't moved a single point and his unfavorability only went up four points.
When broken down, 24% have a "very favorable" opinion of Wolf while 25% have a "somewhat favorable" view. Conversely, 29% have a "very unfavorable" opinion of the Governor while for the other 18% it is a "somewhat unfavorable" view. Just 5% are undecided.
The Governor is buoyed by the feelings of those in Philadelphia and the Southeast (71/21) who make up for underwater ratings in the rest of the state.
When it comes to the right direction/wrong track question, however, Pennsylvanians are increasingly pessimistic.
Sixty-six percent believe PA is on the wrong track while just nineteen percent think the state is going in the right direction. Fifteen percent are undecided.
This number has been steadily growing over time.
Whether the wrong direction number will begin to affect the Governor's favorability number remains to be seen.
Harper Polling surveyed 662 likely voters through landline interviews conducted using Interactive Voice Response (IVR). The poll took place between on March 1st and 2nd. The margin of error is +/- 3.75%.