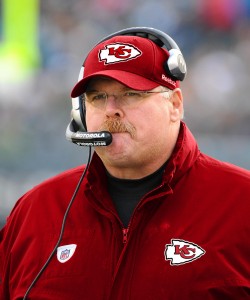 After the most recent debacle of a season, it would be an understatement to say that Philadelphians had absolutely had it with Andy Reid. That's what Harper Polling have indicated. Their latest survey shows that a decisive majority of Philadelphians and suburbanites – a margin of 60 percent to 9 percent – say they are satisfied with Jeffrey Lurie's decision to can coach Reid after 14 seasons.
That's according to 181 of the 798 respondents in the statewide poll. The smaller sample size means that the margin of error is in the neighborhood of 7 percent – a number that is 3 higher than the Birds' total wins in 2012.
National pundits across the country may disagree but SEPA could barely be more pleased.
Can you blame them? Never having won a Super Bowl and only making an appearance at the game twice, the people of Philadelphia and its surrounding areas were only more than frustrated as they continued to watch their dreams of an Eagles parade on Broad Street fall slowly with each and every interception and turnover these past few seasons.
Andy Reid had been a welcomed coach when he first arrived in Philadelphia, and many believed he was the great thing our city needed. But in normal Philadelphia fashion, it was only a matter of time before we pulled the whole, "all good things must come to an end" card.
Poor performance on the field and a lack of heart and showing on the field by Andy's players weren't the only thing that drew criticism from the SEPA fans of the Eagles, and led them to cry out battle calls to "Fire Andy." Reid's ridiculous inability to manage the clock left fans yelling, screaming, and questioning why Andy seemed to move at a different pace than the rest of the world. Most recently, poor talent evaluation and questionable draft picks doomed Big Red.
Philadelphia sports fans are arguably some of the toughest in the country. They know no boundaries, and take no pity. They hold nothing back when it comes to their city's sports teams. Let's be honest here, they are the only city that's fans had notoriously and relentlessly thrown snowballs at Santa Claus during an Eagles Game. Harper Polling's survey on Andy Reid's firing comes as little surprise to anyone in Philadelphia or SEPA who, many would venture to say, would have been just as satisfied if this firing had come a few years sooner.
The rest of the state, or at least opinionated citizens, seemed to agree with Philadelphia and the surrounding area leaning 'satisfied' over 'disastisfied.'
Reid got the most love in Scranton/northeast, where just 26 percent said they were satisfied with the firing and 24 percent said dissatisfied.
The only section of PA where respondents overwhelmingly had no opinion was Pittsburgh/Southwest, but with six Super Bowls and their own problems it's easy to see why they wouldn't care.
Needless to say, hopefully after Andy's firing, we have one less problem. Good luck, Kansas City.
Cram is a Philadelphia resident and long-suffering Eagles fan.