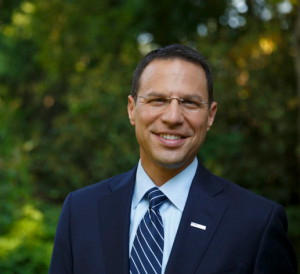 Josh Shapiro has opened up a double-digit lead over his challengers for the Democratic nomination for Attorney General, the latest Harper Poll shows.
Montgomery County Commissioner Shapiro picked up 33% in the poll, while Allegheny County DA Stephen Zappala registered 17%. Northampton County DA John Morganelli comes in a close third with 16%. 34% of voters are still undecided, with three weeks until the primary.
Shapiro leads among almost all demographics, including very liberal voters (42%), somewhat liberal voters (38%) and moderates (32%).
His strongest numbers come from those closest to home, with 48% of Philadelphia/Southeast PA voters backing him. Shapiro also leads in South Central PA (31%) and the Northern Tier (22%).
43% of African-American voters support Shapiro, the poll shows, while he also wins over a plurality of both Bernie Sanders and Hillary Clinton supporters.
Zappala also found home comforts in the poll, with 49% of the Pittsburgh/Southwest PA region throwing their support behind him. Likewise, Morganelli performed best in the Scranton/Lehigh Valley region, picking up 37%.
A January Harper Poll showed embattled incumbent AG Kathleen Kane with a substantial lead over her three challengers, but she has since dropped out of the race.
Harper Polling surveyed 603 likely Democratic primary voters through landline interviews conducted using Interactive Voice Response (IVR). The poll took place between on April 2nd and April 3rd. The margin of error is +/- 4%.