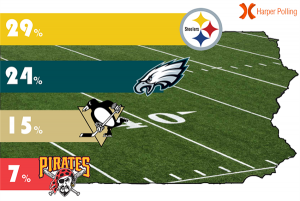 Pennsylvanians love their sports and Harper Polling sought to delve into those feelings with their latest survey.
Among the questions asked were what Keystone State team would be the next to win a championship.
Football lead the way with the Steelers grabbing 29% and the Eagles 24%.
The Pittsburgh Penguins and Pirates finished third and fourth with 15% and 7% respectively. Meanwhile the Phillies and Flyers tied with 6% while the Sixers brought up the rear with 3%. 11% were unsure.
As should be expected the Western half of the state sided with the Steel Curtain while the Eastern half supported their Iggles.
There were, though, several demographic gaps. For example, women choose the Steelers by an eight-point margin (30%-22%). Men, however, tied with 26% going to each NFL team. Additionally, the Eagles actually prevailed among Democrats and blacks while the Steelers are favored by Republicans and whites.
Harper also polled Pennsylvanians on who was the better NFL coach, the Eagles' Chip Kelly or the Steelers' Mike Tomlin.
Inexplicably, (at least to this Eagles die-hard) Tomlin won with 46% compared to 34% for Kelly, while 19% were not sure.
Given last year's results, the rookie Philly coach led his team to a division title while the Steelers racked up a disappointing 8-8 record, these results are more likely based on past performance and legacies. The Steelers, for instance, have won an NFL-record six Super Bowls while the Eagles have won…let's just say less than six.
Greatest Athlete
The Harper group also asked which native-born Pennsylvanian was the greatest athlete.
Not surprisingly basketball legend, and 100-point in-game scorer, Wilt Chamberlain finished in first place with 24% of the vote. Golfer Arnold Palmer (not the beverage) and former Dolphins QB Dan Marino tied for second with 13%.
Kobe Bryant and Joe Namath also tied for fourth place with 10% while Ken Griffey Jr., Stan "The Man" Musial, and Johnny Unitas rounded out the group with 6% each. 11% responded not sure.
The only significant discrepancy was a partisan gap between Democrats who favored Chamberlain by about twenty points and Republicans who rated him third behind Palmer and Marino.
The sample size for the survey is 568 and the margin of error is +/-4.11%.  The Interactive Voice Response (IVR) automated telephone survey was conducted June 25-26, 2014.