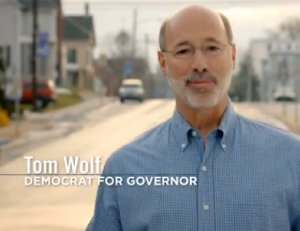 Tom Wolf maintains a commanding lead in the Democratic primary for Governor according to the latest Harper poll.
According to their survey, if the election we're held today 50% of respondents would support Wolf.
Allyson Schwartz and Rob McCord are tied in second place, each with 15%. Katie McGinty was chosen by 5% of voters.
16% of respondents answered that they were "not sure" who they would vote for.
Harper last surveyed the race back in February. In that poll, Wolf was also the leader with 40% of the vote. Schwartz had 14%, McCord 8% and McGinty 6%. Former candidates Jack Wagner and John Hanger each received 7%. Back then, 19% of respondents were undecided.
Update: Harper Polling has released more information from their survey, specifically the favorability ratings and reach of each candidate and their campaign.
According to Harper, 90% of likely Democratic primary voters have heard of Tom Wolf. Of those people 57% have a more favorable opinion of the former Department of Revenue Secretary while just 17% have a less favorable opinion.
Meanwhile, 59% have heard of McCord and their perception on the State Treasurer is split 40% to 42% favorable/unfavorable. 58% are aware of Allyson Schwartz and they break down 45%-38% while 44% have heard of Katie McGinty and she has a healthy 53%-27% favorable/unfavorable rating among them.
Finally, Harper asked all the respondents for their overall impressions of the four Democratic candidates. Wolf won out again (67% favorable, 13% unfavorable, 20% not sure) with Schwartz (36%/25%/29%), McCord (35%/30%/35%) and McGinty (27%/32%/40%) all trailing.
The sample size for the survey is 559 likely voters and the margin of error is +/-4.14%. The Interactive Voice Response (IVR) automated telephone survey was conducted May 12-13, 2014 by Harper Polling. The total percentages for responses may not equal 100% due to rounding.