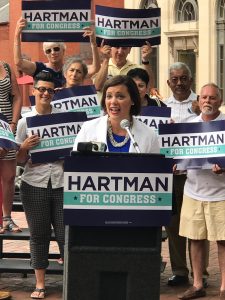 Democrat Christina Hartman is jumping in the race to challenge Congressman Lloyd Smucker for the second time.  Hartman ran against Smucker in 2016.  
"My decision today is about a job left unfinished. I'm running for Congress to protect the health care of millions of Americans, to embrace into our community those who are seeking refuge, and to stop Wall Street from preying on ordinary Americans for its own relentless greed," Hartman said in a release announcing her bid.  
Hartman ran against Smucker last year, losing by 10.87 points.  
"I always finish what I start, and that is what this is about, finishing what I started last year," Hartman said after her announcement.  
Hartman thinks that the lessons she learned last year will help her next year.  She will be doing more outreach to moderate Republicans.  
Hartman will face Charles Klein, and John George in the Democratic primary.  
Smucker's campaign responded to Hartman's announcement by touting his successes in Congress.  
"Democrats are struggling to identify with normal folks, especially in Lancaster. Their primary winner will have their work cut out for them.  Lloyd is focused on jobs and families. He's already passed a bipartisan bill in the House focused on helping families adopt children in need. That type of early success is rare for a new Congressman. He will continue to work hard on behalf of the residents of the 16th District," Campaign spokesman Mike Barley said in an email.