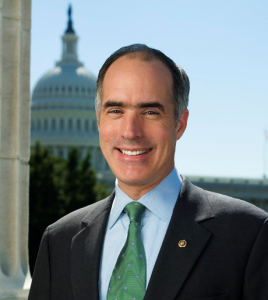 Senator Bob Casey today endorsed Leanne Krueger-Braneky, Democratic nominee in the special election to fill the HD-161 State House seat.
"As a business leader and advocate for a sustainable economy, Leanne Krueger-Braneky has helped create more than 7,000 jobs in the Greater Philadelphia region. Leanne understands that nothing is more important to Pennsylvania's economic future than a highly skilled workforce, which is only made possible by quality public education for all children," Senator Casey said. "If you live in the 161st District and believe that Pennsylvania should once again be a national leader in public education, job creation, women's health, and tax reform, make a plan to vote for Leanne this Tuesday."
"Senator Casey is a dedicated public servant who works tirelessly for Pennsylvania's families, and I am so honored to have his support in this race," responded Krueger-Braneky. "As Senator Casey leads the fight to expand Pre-K programs across the country, I will work with him and Governor Tom Wolf in Harrisburg to make sure Pennsylvania invests in early childhood education and other programs that prepare young people to compete in the global economy."
Krueger-Braneky is running to represent the 161st legislative district. Former State Rep. Joe Hackett retired last April.
Hackett defeated Krueger-Braneky 56% to 44% last November. A number of factors, though, help her chances this time. It will be an open seat, 2014 was a GOP wave year and Republican nominee Paul Mullen has deal with tea party activist Lisa Esler's write-in effort.
Last Saturday, Governor Wolf chose to personally campaign for Krueger-Braneky, making this contest a critical test of his popularity in the midst of the budget standoff.
The election is scheduled for tomorrow August 4th.