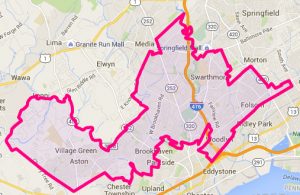 The last few days have seen a flurry of endorsements for the August 4th State House special election.
Republican Joe Hackett resigned last April after serving four years as the State Representative for the 161st legislative district.
2014 candidate Leanne Krueger-Braneky won the Democratic nomination while Delaware County AFL-CIO President Paul Mullen is the GOP nominee. Tea Party activist Lisa Elser is waging a write-in campaign.
The following are the endorsements the candidates have accumulated over the last few days:
Leanne Krueger-Braneky
On July 16th, Krueger-Braneky won support from a pair of advocacy organizations, the Education Voters Action Fund and CeaseFirePA.
"Let's be clear: Pennsylvania is in partial government shutdown because some legislators who claim to be supportive of public education have chosen to side with corporations and special interests instead of our children. Governor Tom Wolf's budget will restore cuts to public education and deliver property tax relief to families who have paid more and more while gas drillers got tax breaks from Harrisburg," Krueger-Braneky said. "Politicians like to call themselves 'independent leaders,' but they don't know the difference between independence and inconsistency. One day, Paul Mullen attacks Lisa Esler for increasing school taxes to support public education, but on the next he sends out a piece of direct mail saying he'll 'strengthen our schools.' That's not independence, that's inconsistency."
"Governor Wolf's historic election and numerous polls show that Pennsylvania voters believe nothing is more important to our future than quality public education for all children," said Director Susan Gobreski. "We need leaders like Leanne Krueger-Braneky who will work for the people, not for special interests. Education Voters Action Fund is proud to endorse Leanne, because nothing is more important for Pennsylvania's future than educating our kids."
"CeaseFire Pennsylvania, the advocacy arm of CeaseFirePA, today endorsed Leanne Krueger-Braneky for election to State Representative in the 161st District in Delaware County," said Executive Director Shira Goodman. "Krueger-Braneky scored 100% on our candidate questionnaire, expressing solid support for key gun violence prevention policies including expanded background checks, mandatory reporting of lost and stolen firearms and stronger procedures for keeping guns out of the wrong hands. The voters of the 161st District will be well-served by Krueger-Braneky, who prioritizes safety and commonsense policy measures. Krueger-Braneky's opponents in the race, Republicans Paul Mullen and Lisa Esler, did not respond to our questionnaire."
Four days later, she received the backing of the United Food and Commercial Workers Local 1776.
"Leanne Krueger-Braneky is the best choice for voters and working families in the 161st District in Delaware County," said Wendell Young, IV, President of UFCW 1776. "We know that Leanne will fight hard for workers' rights and to make sure that the promises made to long-time public servants are kept. We aren't a partisan organization. We are about supporting the best candidates and policies for our workers, our communities, and our economy. Throughout her career, Leanne has shown a dedication to treating workers with respect, building strong communities, and working to grow our economy. Because of those traits, we believe she'll be a great State Representative."
"It's an honor and a privilege to have the backing, the faith, and the trust of the workers in UFCW 1776," Krueger-Braneky responded. "I am especially grateful for their support since at a time when unions and working families are under attack in Harrisburg and in state capitals across the nation, UFCW 1776 could have taken the easy road. But, they chose to stand by their members and their principals and I won't let them down if I'm elected to the state House."
The biggest endorsement she scored, though, was from the SEIU.
"I am honored to have the endorsement of workers who form the backbone of Pennsylvania's middle class," Krueger-Braneky said. "Pennsylvania still does not have a budget because House Republicans would rather give tax breaks to gas companies and out-of-state corporations than to middle-class families and seniors. If elected on August 4th, I will fight for fair treatment and dignity for workers and for good-paying jobs that lift people out of poverty and help our middle class get ahead."
"Pennsylvania needs leaders who understand that family-sustaining jobs, fair wages, and dignity for all workers are key to the Commonwealth's economic growth.  Leanne has demonstrated a passion for these issues, and that is why she has earned SEIU's enthusiastic support," said Neal Bisno, Secretary-Treasurer of SEIU Pennsylvania State Council and President of SEIU Healthcare Pennsylvania. "We have a governor in Tom Wolf who is working to strengthen the middle class, but he needs partners like Leanne in the General Assembly to put Pennsylvania back on track."
Paul Mullen
Paul Mullen's labor background came in handy with a huge coup when he won the support of the Pennsylvania State Education Association (PSEA).
"Paul Mullen believes that every student deserves a strong public education system," said PSEA President Mike Crossey. "Paul will make education funding a top priority in the legislature and will be a strong advocate for Pennsylvania schools, students, and teachers. He understands the challenges facing our educators and we are proud to support his campaign for the State House."
"My sons attend public schools in the Penn-Delco School District and I am a strong supporter of our public education system," Mullen responded. "As a State Representative, I will work to ensure our schools receive the funding they need and deserve to prepare our children for the future. We need to empower parents and teachers – not Harrisburg bureaucrats – with more control over local education decisions. One of my priorities in the House will be to enact a severance tax on natural gas drillers to provide funding to our school districts so they have the resources needed and are not forced to constantly raise property taxes on working families."
"I have great respect for our teachers and the work they do every day to provide our young people with a quality education and a foundation for success," Mullen concluded. "It means a great deal to me to have earned the recommendation of our teachers and I appreciate their support."
Mullen's tenure on the Delaware County Economic Oversight Board likely also helped him get the support of Delco's Chamber of Commerce PAC.
"Paul Mullen recognizes the needs of job creators in Delaware County and across the Commonwealth," said Trish McFarland, President of the Delaware County Chamber of Commerce. "As a member of the Delaware County Economic Development Oversight Board, Paul has played an instrumental role in numerous economic development projects that have brought new business to the county, helped existing businesses grow, and created jobs for area residents. He knows the challenges small businesses face and will work to address them in the legislature. In addition, Paul Mullen has a strong vision of the direction he wants to help steer Delaware County as a major energy hub that will help attract new manufacturing companies to the region."
"I greatly appreciate the support of our business community and the Delaware County Chamber of Commerce," Mullen stated. "I'm excited by the opportunity to represent this district and the county because I think we are in a great position to establish Delaware County as a major energy hub for the Mid-Atlantic region thanks to the growth of the natural gas industry in the state. We need to capitalize on this opportunity and find new, innovative uses for the Marcus Hook refinery and other underused industrial sites along the Delaware River. With my background as a member of the county's economic oversight board, I can help to coordinate state, federal, and county efforts on this issue. This is a historic moment for Delaware County that will drive business growth and employment for years to come."
Finally, Mullen won the endorsements of two of PA's most prominent GOP lawmakers: Senator Pat Toomey and Congressman Pat Meehan.
"Paul Mullen shares our Republican values and will fight for us in Harrisburg," said Sen. Toomey.
"Paul Mullen is a fiscal conservative who will eliminate wasteful government spending and oppose tax increases, and a proven job creator who will help protect and create family-sustaining jobs in Delaware County. On Tuesday, August 4th, I encourage local residents to vote Paul Mullen for State Representative."
"Paul Mullen is a strong advocate for the values of limited government and low taxes," Congressman Meehan said. "As a member of the Delaware County Economic Development Oversight Board, Paul has always stood up for middle class families here in Delaware County. I'm pleased to support Paul Mullen for State Representative in the upcoming August 4th special election."
"It's an honor to have the backing and support of Senator Toomey and Congressman Meehan," Mullen responded. "I will fight to control spending, oppose current efforts to increase the personal income tax and sales tax, and work to reduce out of control property taxes. We need to work to ensure residents, families, and seniors get to keep more of the money they earn, not the state government."