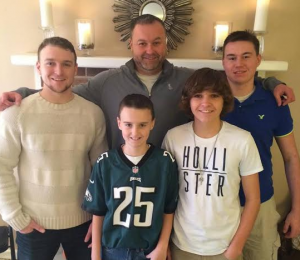 The local Republican committee has voted and they've made their decision.
Paul Mullen will be the GOP nominee to replace retiring State Rep. Joe Hackett.
"I greatly appreciate the support of the committee people of the 161st Legislative District and hope to have the support of local voters on election day," said Mullen. "My top priorities as a legislator will be to create jobs and bring new businesses to our district, ensure our schools receive the proper level of state funding, and hold the line – and hopefully lower – property taxes for seniors."
Mullen is a native of Aston. He currently serves as President of the Delaware County AFL-CIO, Business Manager of the IBEW Local 654 and on the Delaware County Economic Oversight Board.
"Paul Mullen is an excellent candidate with deep roots in our community as an active member of the Republican party, a youth sports coach, and labor leader," said Bob Willert, Republican Party Chair for the 161st Legislative District and Chair of the Ridley Township Republican Party.  "As a longtime registered Republican and labor leader, Paul's background reflects the broad and diverse population of Delaware County and our county party."
The 161st district has a GOP registration edge (19,703 Republicans vs. 14,390 Democrats) but the Dems have contested it in the past. The special election is scheduled for August 4th.